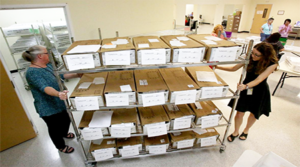 PIMA COUNTY – As of 8 a.m. Wednesday, Nov. 7, Pma County Elections has 80,000 estimated ballots remaining including early, provisional and conditional ballots that still need to be counted.
Early Ballots: 59,459
Provisional Ballots: 18,164
In recent past elections, between 80% to 90% of provisional ballots have been counted. That trend is expected to continue with this election.
Conditional Ballots: 209
Ballots in need of Duplication: 7,239
These are ballots that require duplication due to a defect on the ballot preventing it from being counted by the tabulating machine (for instance, an early ballot stained with spilled coffee or people writing on their ballot).
Ballot counting will resume Thursday, Nov. 8.