Eller College Arizona Economic Outlook Meeting Dec 3rd Zoom Meeting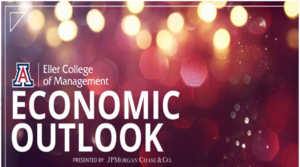 TUCSON, ARIZONA — Join Eller's George Hammond and former Chase Chief Economist Anthony Chan, as they offer insight into the future for the local, state, national, and global economies Friday, December 3, 2021, Noon-1:30 pm, free this year via Zoom meeting. Register here.
After a strong summer, will growth decelerate?Arizona's recovery from the pandemic gained significant momentum during the summer. Job gains surged, housing permit activity remained very strong, and taxable sales remained on track for significant gains this year. The housing market grew even hotter during the summer, with low inventories, high construction materials prices, and strong demand driving median home prices up by 30% or more in June. Federal fiscal stimulus is gradually dissipating, but income gains are likely to remain robust this year as the labor market continues to recover. While the state economy has recovered rapidly, major questions remain unanswered. What are the long-term economic consequences of the pandemic? Will Arizona experience a major increase in migrants from other states, as remote workers seek lower housing costs? What are the implications of the recent surge in inflation and how will the Federal Reserve respond? How will the stock market fare in the recovery? Register now and attend to participate in this important discussion!This event is presented by JPMorgan Chase & Co.