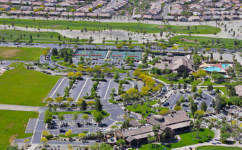 Members of the City of Eloy Planning and Zoning Commission are discussing construction projects at Robson Ranch, the proposed site of a new Family Dollar store, planned improvements to the medical marijuana building, the adoption of new fire codes, and the annexation of 160 acres of undeveloped property owned by Robson Ranch.
Construction workers are still currently working on the clubhouse at Robson Ranch, but also plan to build a new golf pro shop soon as well. The city recently approved the plans for the new golf pro shop.
According to interim Eloy City Managers Harvey Kraus, construction has also begun on 80 casita-style homes at Robson Ranch. Phase one of the casita homes has already sold out.
The city is reviewing plans for a Family Dollar store at the northeast corner of Shira and Frontier Streets. Krauss said those plans are very close to being approved.
Officials from Jamestown Center, the medical marijuana building, submitted plans to complete tenant improvements within the interior of the building with a possibility of expanding in the future.
City staff is in the process of annexing 160 acres of vacant Robson Ranch-owned property at the southeast corner of North Toltec Buttes Road and Florence Boulevard.
"Toltec Buttes is a dirt road but there are power lines going out there and it's about a little more than a mile from the proposed PhoenixMart location," said Krauss. "Robson Ranch already started construction of its homes and they acquired this property after they filed for annexation in 2006, so this piece of property never was annexed. This is to bring all of their holdings into the city."
Robson Ranch officials haven't done any land planning but it's probably most likely going to be commercial or multi-family because of the location on Florence Boulevard and proximity to PhoenixMart. Krauss said it's doubtful anything built at this location would be single family.
Read more at TriValleyCentral