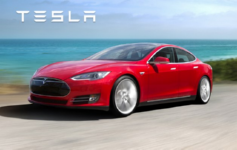 The mystery of where the first of Tesla's $5 billion Gigafactory battery plants will be built has deepened this week as work being done on the Nevada site suddenly stopped. The Tahoe-Reno Industrial Center site in Storey County, Nevada, had been underway for three weeks with equipment clearing the land for what was reported to be the Tesla Gigafactory.
What we know for sure is Panasonic and Tesla entered into a formal agreement to partner on the Gigafactory. Panasonic will invest in production equipment that it will use to manufacture and supply Tesla with battery cells.  Tesla will prepare and provide the land, buildings and utilities for the Gigafactory, invest in production equipment for battery module and pack production, and be responsible for the overall management of the Gigafactory.
In June, Tesla broke ground just outside Reno, Nevada on a site.  The confirmation was made by Tesla Motors in its official Tesla_Q2'14_Shareholder_Letter, in which the company confirmed that Tesla broke ground just outside Reno on a site that it says could 'potentially be the location for the Gigafactory.'  However, suddenly the work was halted on the site this week.
"They have moved more than 3 million cubic yards of dirt," developer Lance Gilman is quoted in the Gazette-Journal as saying. "The pad is 85 percent complete. It may well be they have reached a transition point and will go into a second phase. There will be more to come next week." But work on the site may have been permanently stopped other sources report.
Since news of the proposed Gigafactory broke earlier this year, officials in all the finalist states have made various overtures to lure Palo Alto, California-based Tesla.
States have offered discounted electricity and free land, and have introduced bills to allow direct sales of Tesla's vehicles, which states such as Arizona currently ban. California recently joined Texas, New Mexico, Nevada and Arizona in the race for the Gigafactory when it passed special tax breaks for Tesla.
Last month, Texas Gov. Rick Perry cruised by the California state Capitol in a Tesla Model S sedan, and California Gov. Jerry Brown has offered various financial incentives, low taxes and reduced red tape to woo Tesla.
Tucson would like to think the construction halting in Reno may have been due to a $3 billion building permit that Mayor Jonathan Rothschild reportedly sent for construction of a battery assembly plant in Tucson. Mayor Rothschild was reported in the Arizona Daily Star as having sent the permit with the following brief memo to Tesla officials Wednesday.
"Attached is a City of Tucson permit, ready for your signature," the memo reads. "Just letting you know the City of Tucson is ready to proceed as soon as you are."
The permit is for a one-story building of up to 5-million-square-feet at an address "to be determined." It was issued by the city of Tucson Development Services Department to show the welcome mat is out here for Tesla to come.
Sounds like Tesla officials may have heard about Tucson's reputation for delaying project permits in City red tape.
But the good news for the rest of us is now that the City has figured out how to move the Tesla permit so expeditiously, maybe they can figure out a way to move other building permits through too for Tucson and make it more attractive for other businesses.
Development Services just can't say 'it can't be done' any longer.