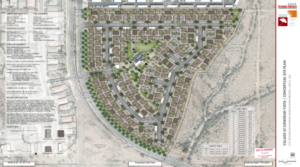 Developer plans second build-for-rent community near Taiwan Semiconductor Facility
Scottsdale, Ariz. - On the tails of announcing its closing on a 40-acre parcel near the Taiwan Semiconductor Manufacturing Company (TSMC), Empire Group purchases a second parcel less than a mile up the road. Securing approximately 37-acres for $9.08 million located east of North Valley Parkway and Rancho Laredo Drive. This parcel is the future site for Village at Sonoran Vista, a gated community that will include 240 single-family build-for-rent homes, plus the developer's signature lifestyle amenities.
Empire Group is targeted to break ground on Village at Sonoran Vista by late 2022 with leasing to begin by early 2024. Village at Sonoran Vista will offer one- two- and three- bedroom homes for rent ranging from approximately 680 to 1,300 square feet.
"The projected growth for the area with TSMC and other vendors and suppliers adding or expanding operations in the Phoenix market only increases the already significant demand for housing," states Richard Felker, founding partner of Empire Group.
Cashen Realty Advisors represented the Empire Group in the purchase of the 37-acre parcel.
Empire Group currently has six projects under construction totaling 1,337 units, with another five communities that include Village at Sonoran Vista and Village at Bronco Trail,  totaling another 1,400 units the company is expected to break ground on by the end of 2022.
In addition to its developments in Greater Phoenix, Empire Group is beginning its expansion into other states with three land deals closing. The company recently closed on a 48-acre parcel in Fort Worth, Texas with 29.9 acres zoned for a 322 single-family build-for-rent community and the remaining acreage for commercial use. Empire Group is scheduled to close on 30.6- acres in Hutto, Texas by the end of August. Construction plans include a gated community of 276 single story homes for rent. In Colorado Springs, Empire Group is on track to close this fall on a 26-acre parcel where the developer is working with the city to finalize development plans on a 247 build-for-rent home community.
To learn more about Empire Group of Companies and its portfolio of projects, visit builtbyempire.com.