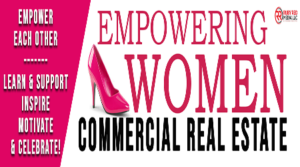 Phoenix, Arizona – It is an exciting time for all the women in the Commercial Real Estate industry. The #womenincre hashtag is becoming one of the more popular hashtags used by women all over social media. The national media outlets are also advancing opportunities in creating more platforms and award recognitions to support the Women in the CRE industry.
"After my own personal and professional experiences, I knew there was a need for creating a very specific platform that directly elevates and highlights the women in commercial real estate. There are some amazing and talented women in this industry that are not affiliated with paid organizations that still deserve the support and recognition," said Melissa Swader.
Swader is the President of Ruby Red Media and was featured in '14 Women Who've Cut Through the CRE Marketing Clutter' as a prelude article before being named as one of the '2020 Influencers in CRE Marketing' by GlobeSt. early last year. Swader stated, "In January of 2020, I decided to create the Facebook group, Women in Commercial Real Estate and I officially announced and launched the platform in May of 2020 because I felt it was the perfect timing in connecting more women digitally in our industry. Our group continues to grow, and we have evolved on so many levels."
National media outlets and other women-related organizations continue to create recognitions for women in the business and it is no surprise that everyone is starting to recognize the evolution that more and more women are entering the CRE industry. From specific influencer awards to Outstanding Women in Business, to Most Recognized or Top Women-Owned companies to work for, positive news highlights are spreading more consistently. The ladies are on top of their game. There is much gratitude owed to the media for creating this space for women in the industry.
"Being published is an honor and I believe more and more men and women are starting to understand how much media recognition can impact your business," said Swader.
Since the Facebook group was launched last summer, the #womenincre and #empowerWICRE hashtags have been making social media headlines. The Facebook page, @CRErealestate also shares valuable content and industry news because media outlets, brokerages, and pages can be tagged as well. In August, the EMPOWERING Women in Commercial Real Estate national monthly call was launched bringing women together all over the country to discuss real topics face-face-face on zoom, to support one another, provide insights and build new relationships. "I've made some good interactive friendships with women I have not yet met (but it feels like I have). We listen and learn about our journey and goals," said the Director of Communications, Danielle Haney with DealPoint Merrill. "I love that we can speak openly on subjects that only women would understand and give encouragement when we can use an ear to discuss an issue." In addition, a new merch store was created and is now live to help promote women in CRE, and Swader is proud to officially announce their new Instagram page, @women_in_cre and their brand-new website, www.womenincre.com that just launched in October.
All these platforms have been created to highlight and feature women all around the world. Swader said, "I welcome any new partnerships that seek to aim for the same goals." Haney continued to state, "We showcase our achievements and wins our sales and closings, engage in daily conversations, and post motivational messages with women all across the U.S." It does not get any better than this.