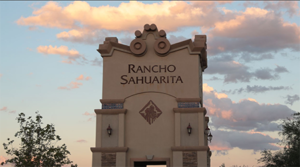 SAHUARITA, ARIZONA — Rancho Sahuarita is a 3,000-acre master planned community located within the municipal boundaries of Sahuarita, Arizona, a town of approximately 31,500 in Southern Arizona. Sahuarita is one of Arizona's fastest-growing communities located roughly 20 minutes south of Central Tucson on Interstate 19. Tucson International Airport is also a 20-minute drive from Sahuarita.
Started in 2000, Rancho Sahuarita is now expanding south of Sahuarita Road with its newest subdivision, Entrada La Coraza, in the vicinity of the new hospital. Pulte Home is returning to Rancho Sahuarita with the purchase of 64-lots of 45'wide lots for $1,589,656 ($24,838 per platted lot) and Richmond American Homes has acquired 80-lots of 40'wides for $1,759,347 ($21,992 per platted lot).
The seller, RSMC VI LLC (Jeremy Sharpe, manager), an affiliate of Rancho Sahuarita, has a development agreement with the builders to finish the 144-lots and more in the pipeline.
Entrada del Rio the latest subdivision has all 500 new homesites turned over to four homebuilders including KB Home, Lennar, Richmond and Meritage.
In 2020, new home sales in Greater Tucson have increased by 7.9% and new permits by 17.3%, according to RL Brown. That momentum has continued into 2021, with January reported as 'the highest new home sales month to date for Entrada del Rio'.
Entrada La Coraza is in the vicinty of the new 77,000-square-foot Rancho Sahuarita Micro Hospital at 16260 Rancho Sahuarita Blvd., Sahuarita, that opened in November 2020. A 2-story, 18-bed medical/surgical unit with 14 emergency department exam rooms, administration and support spaces, pharmacy, imaging department (CT, X-Ray, nuclear medicine) and two operating rooms with surgical support services. The 30,000-square-foot second floor is also for future MOB / ASC / LDRP use.
For more information on Rancho Sahuarita, Diana Dessy, Director of Land Assets for Rancho Sahuarita Management Company can be reached at 520.275.7235.
To learn more, see RED Comp #8359 and #8401.