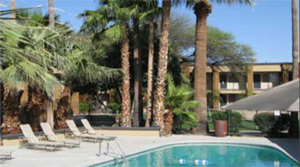 TUCSON, Arizona — An affiliate of Equilibrium Fund II purchased Cordova Village Apartments for $8 million ($25,157 per unit), a community located at 2020 S Columbus in the eastern submarket of Tucson, Arizona.  The 147,000-square-foot complex in 18 buildings has 318-units on 9-acres and was built in two phases 1977 and 1982.
The private-equity real estate firm specializes in value-add multifamily investments.
Equilibrium is run by a team of experienced real estate investment professionals led by Managing General Partner, Sofonias Astatke. Focused on the rehabilitation of distressed and mismanaged properties, by acquiring value-add multifamily properties, the investor is able to capitalize on the economic growth of the region while creating revenue. Properties are renovated and/or repositioned and stabilized for re-sale or significant cash flow. Equilibrium Fund I operates in the Washington, DC area and targets underperforming residential complexes in transitional neighborhoods. Fund II targets underperforming apartment complexes located in the Arizona metropolitan areas of Phoenix and Tucson with a low-risk, high return buy and hold strategy that uses little to no leverage.
Hamid Panahi, Steve Gebing and Cliff David of Marcus & Millichap Phoenix handled the transaction for investor and seller, Monson Properties AZ of Sacramento, CA (Phil Monson, manager) that bought the property in 2015 for $19,000 per unit.
"Cordova Village sold at a cost per unit basis," Panahi said, "as a value-add sale." The unit mix is 33 percent studios and 65 percent one-bedroom units, with the remaining two-bedroom units. Property amenities include two pools, a Jacuzzi, playground, basketball court, sand volleyball, and a fitness center. Additionally, there are several barbeque grills, two ramadas for family get-togethers, and two large laundry facilities conveniently accessible to bus services.
For more information, Panahi, Gebing and David can be contacted at 602.687.6700.
To learn more, see RED Comp #4518.