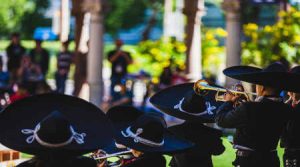 TUCSON, AZ (September 11, 2023) -- Pima County is hosting multiple events as part of Hispanic Heritage Month.
The Pima County Historic Courthouse, 115 N. Church Ave., will play host to many events as part of Hispanic Heritage Month Sept. 15 to Oct. 15.
The County is partnering with Visit Tucson on the "¡Viva Tucson!" campaign, which will feature cooking demonstrations, educational presentations, tamale tastings and more. In addition, the courthouse is bringing back its "Music in the Courtyard" weekly concerts. A full schedule of courthouse events is listed below.
Sept. 15, 11 a.m. – 1 p.m., Maximiliano Larrea, Tango Guitarist and free agua frescas from Antojo Poblano, courtyard;
Sept.  22, 11 a.m. – 1 p.m., Diana Olivares & Salma Diaz of Las Azaleas Mariachis, courtyard;
Sept.  22, 1 p.m. – 3 p.m., Cooking demonstration with Chef Maria Mazon, BOCA Tacos y Tequila and SONA Tortillas, and Chef Ambassador Rod LeDesma, PY Steakhouse at Casino del Sol, courtyard;
Sept.  29, 10 a.m. – 11 a.m., "Mexican Americans Recall a Southwestern Past," presentation by Consul Rafael Barcelo Durazo, Turquoise Room;
Sept.  29, 11 a.m. – 1 p.m., Richard Noel and Dereck Ayum, Latin/Caribbean Music, Courtyard;
Oct. 6, 11 a.m. – 1 p.m., Angelina Ramirez, Misael Barraza-Diaz, and Diana Schaible, Flamenco Music and Dance, courtyard;
Oct. 6, 11 a.m. – 1 p.m. Tamale tasting with Flores Family, courtyard.
In addition, the Pima County Public Library's Nuestras Raíces Committee will be hosting an El Grito event from 3 to 5 p.m. Sept. 15 at El Rio Neighborhood Center, 1390 W. Speedway. "El Grito" is a reference to "El Grito de Independencia," which is commonly recognized as the battle cry that launched the Mexican rebellion against Spain in 1810.
The Nuestras Raíces event is being hosted in collaboration with the Mexican Consulate and will feature performances from local youth mariachi and folklorico groups. The seed library will be handing out grab-n-go kits for lemon balm plants and library staff will help families sign up for library cards.
The library also invites anyone wishing to learn more about the history, culture, contributions and soul of the Mexican/Mexican-American/Mestizo peoples to visit the Frank De La Cruz Collection at the Quincie Douglas Library, 1585 E. 36th St. De La Cruz, who died in 2015, worked in Pima County libraries for 35 years.
And baseball fans can enjoy competition on the diamond at Mexican Baseball Fiesta at Kino Sports Complex, 2500 E. Ajo Way, Oct. 5-8. Learn more at the Mexican Baseball Fiesta webpage.
Hispanic Heritage Month was established in 1968 by President Lyndon Johnson and takes place from Sept. 15 to Oct. 15 each year. Sept. 15 is the anniversary of independence for many Latin American countries, with others celebrating their independence on the 16th and 18th.
To find out more about the monthlong celebration and other events taking place, visit Visit Tucson's webpage at www.visittucson.org/viva.