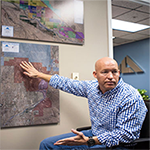 It's been 15 years since longtime real estate broker, Will White opened the Tucson office of Land Advisors Organization and began navigating the larger, high-profile land deals in the region. The Land Advisors Organization (LAO) specializes in the brokerage of land, with an exclusive focus on land-related assets and White has been the head of the Tucson office since it opened in 2001.
LAO has been involved in a large percentage of the most significant land transactions in Tucson, from Rancho Vistoso, Dove Mountain, Sanders Grove, Saguaro Ranch, Saguaro Bloom and Gladden Farms in the Northwest submarket to the new La Estancia Master Planned Community, Mountain Vail, and Rincon Knolls in the Southeast submarket. White's unique perspective has helped his clients successfully navigate through a changing environment; through both good and bad cycles. White has certainly seen the best as well as the worse land markets during this time.
We recently sat down with White to get his thoughts on the past, present and future land market in Tucson.
Q: What gives you personally the most pleasure in reaching this landmark anniversary?
White: It is great to drive around the area and feel that we have made a positive contribution to the responsible growth of our community. We are from Tucson and that matters a great deal to us. In fact, we currently represent existing and future residential projects in Tucson totaling over 15,000 lots, so we expect to be a big part of Tucson's growth in the immediate future!
Q: Tell us something that most people don't know about LAO.
White: We are more a team than most people realize. Our Brokers collaborate not only in our market but across our network of offices, realizing that we have access to buyers and information that transcends our individual knowledge.  We also rely heavily on our support staff in Tucson and at our Corporate Headquarters in Scottsdale, taking advantage of the best resources in the business to support our clients and their transactions.  Cliché as it sounds, a deal done is a victory not just for our Brokers, but for our entire Land Advisors team.
Q: One thing that stands out watching LAO is its perpetual optimism and ability to adapt, do you consider that a key to your success?
White: I have never seen any benefit to being anything other than optimistic. I think you have to be able to adapt or you can't keep pace in this business, that is fluid and changes so quickly. We are constantly trying to find new data sources, coming up with new ways to interpret that data, and using technology to better serve our clients. We also work to better understand the evolving needs of our clients. Having John Carroll in the office has helped this; John represents an emerging generation and it is great to get his perspective on the business and incorporate his ideas into what we do.
Q: What changes in the market have you seen over the past decade?
White: There have been dramatic shifts in the land market here over the past decade. The ownership makeup has almost completely changed in 10 years. The increase in market share that the national homebuilders have grown is dramatic and is playing a huge role in the land market locally. We have also seen some of the largest homebuilder land deals in the State continue to come out of Tucson each year. This is a direct result of historically low lot inventory, increasing homebuilder market shares, and an improving local market.
There is also a noticeable shift in demand for age-restricted or age-targeted communities in the area. I anticipate that we will see some larger projects put into play to accommodate the rapid growth in that segment of the housing market.
As infill projects become harder to locate and more difficult to obtain entitlements and infrastructure, we are seeing more attention shift to the master-planned communities that have "ready now" inventory and new amenities for homebuyers. With lot inventory coming at a premium in town for the next few years, the masterplans will be getting more and more attention.
Q: Are you seeing a market recovery?
White: Definitely! Although we are historically low in our annual permit counts, we have recovered very strongly in the past from similar or worse conditions. I think the next decade in Tucson may be one of the best in history. We have all the components necessary for this to be an extremely active market for many years.
Tucson is a great place to live and work and that will be the driving force we can rely on for the future.
Q: After 15-years, do you still like your job and Monday mornings?
White: Our office is a great mixture of fun and hard work. It is that way by design. We always say we are going to work harder and have more fun than everyone and that has been a good formula so far.
I'm always excited to come to work every day. You never know what you are going to get – it is a blast!  We have a great office, a fantastic team, and have developed some client relationships which have (thankfully) evolved into friendships over the years.  And while we have accomplished some great things over the past 15 years, the greatest feeling is in knowing that we are just getting started.  The next decade is going to be amazing for Tucson!
Q: Do you have any closing remarks or advise for our readers?
White: We started from scratch 15 years ago and have been fortunate to capture a substantial market share in Tucson each year. And while our market share is great – it is really a complement of our clients that have continually chosen to work with us. Our goal is taking the best possible care of our clients and making sure we've done everything we can to help them achieve their objectives. As we do this, our clients return to work with us again and again, and market share seems to take care of itself.
The Land Advisors Organization employs a collaborative brokerage model with offices located in Arizona, California, Idaho, Nevada, New Mexico, Florida, Texas, Utah and Washington. To reach Will White directly, call 520.514.7454.