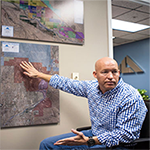 TUCSON, Arizona -- It's been 16 years since longtime real estate broker, Will White of the Land Advisors Organization (LAO) has lead the Tucson office, providing strategic direction for the sale and marketing of residential land and working closely with homebuilders, assembling a record of success selling and marketing the region's top master planned communities. He is known for his role in high-profile, high-price land deals, and has negotiated the sale of more than 5,000 finished / platted lots in the Tucson metro area in the past 36 months.
We recently sat down with White to get his thoughts on whether or not there is a resurgence of master planned communities (MPCs) in Tucson.
Q: It seems like most of the activity these days is in the well-located MPCs in Tucson.  Is this true, and if so, why?               
That is definitely the case!  2017 is off to a great start, and the heart of it begins in Tucson's master-planned communities.
From a consumer perspective, these well-located MPCs offer new amenities and the community 'feel' that families covet.  The communities that are seeing the best sales this year - Gladden Farms, La Estancia, Dove Mountain and Saguaro Bloom - also have, in most cases, multiple  new homebuilders selling at the same time. The result is the creation of synergies that lift community marketing efforts and bring bigger traffic volumes to these projects.
Homebuilders that were proactive in locating (lot) inventory in these communities in 2015-2016 are reaping the benefits today – and are well-positioned for the future.
Q: Is this a new phenomenon, or has it always been this way?
The MPC has historically been a great concept in Tucson. It provides a lifestyle and a sense of place for consumers, and for the homebuilders, it has traditionally been the preferred source of continual lot supply.
That said, it wasn't always this way.  During the recent down-cycle we saw more homebuilders concerned about going head-to-head with their competitors in the same community. Consequently, we saw homebuilders purchase larger positions in these projects to avoid competition and to secure lot inventory.
Thankfully, that position appears to have softened.  We are now seeing a comfort level in that homebuilders recognize they can segment and market together in these projects. They also continue to see these communities as great places to strategically and efficiently secure lot inventory.  This is a vital concept, as in the Tucson market it has become increasingly difficult to get a multi-year lot pipeline secured.
Q: Are the homebuilders going to MPCs because of desirability, or because that is where the lots are?  In other words, is this because of design or circumstance?
It is actually both.  Location is always a huge component of success in homebuilding, and the most successful MPC's are located in the areas that consumers currently prefer, specifically to the northwest and to the southeast/Vail. Securing lots in these desirable areas is clearly a well-designed (and executed) strategy.
Further, MPCs have traditionally been designed to offer homebuilders and homebuyers a certain level of desirability that they can't get in stand-alone opportunities.  Therefore, homebuilders moving into these MPCs is by design.
Unfortunately, circumstances have led us to have a historic situation regarding our low level of community counts and available, developable lots. The metro areas MPC's are an excellent source of "shovel ready" lots that can be built in the shortest length of time. This concept, coupled with the fact that the newer projects in town are well located and offer amenities that are appealing to homebuyers, make it a "win-win" scenario.  Therefore, a part of the equation is homebuilders need to go where the lots are.
Q: What happens if someone wants to develop their own community?  Is this a viable option?
An obvious response to the challenge of acquiring lots often starts with the notion of a company developing their own community.  It makes sense on the surface; land is 'locked in' at today's prices, the developer would have complete control over the lot supply, and they could control the overall composition of the community.
Unfortunately, this alternative quickly breaks down for most companies, largely due to the number of moving parts.  The economics of the land deal must work. Obtaining zoning and entitlements can take anywhere from months to several years.  Then comes the funding and construction of new infrastructure.  This is all before homes can be built, yet the risk, financial exposure, and elapsed time are present throughout.
This isn't to say that developing a new project isn't an option.  It is just a daunting challenge when the alternative is to immediately secure lots in MPCs which already have major infrastructure and entitlements in place, not to mention amenities, recreation, schools, etc. It is often the path of least resistance.
Q: Has this strategy worked out for the homebuilders? Is existing almost exclusively in MPCs the right strategy?
I tend to look at it this way: If someone wants to continue to be a homebuilder in Tucson, they need lots.  As there are very few options available, if they want lots, then they need to be in an MPC.
Has this strategy worked? There are a handful of homebuilders that have been proactive in this manner over the past 12-24 months in Tucson. You can look at the active master-planned communities and identify them. As the lot inventory in Tucson is so tight, I would say that these builders are in better shape from a lot pipeline standpoint than their competition.
This strategy has also allowed builders to quickly build market share.  Some of the most active homebuilders in Tucson now have larger market shares than they have ever had in Tucson. From all indications we are getting, virtually all the builders are projecting growth for their Tucson divisions. Every homebuilder here has different reasons to need to buy land right now, but the main point is this: they all need to buy land in order to not only grow, but also to survive as a Tucson homebuilder.
Q: Will this trend continue for the foreseeable future?
Yes. Not only do I not see it changing, I see it gaining momentum.  Why? We are seeing a very good situation in Tucson right now. The 2017 selling season has been very good through April and we expect this to continue. The best performances this year have come from the areas' existing larger MPC's. As these communities continue to perform well, the homebuilders will look to / want to continue to be a part of that success.
The developers of these communities are doing a great job in promoting the communities, adding value for the homebuilders, and providing a great lifestyle for homebuyers. As the lot supply situation tightens, these communities will continue to be the 'go-to' spot for the builders.
Land Advisors Organization employs a collaborative brokerage model with offices located in Arizona, California, Idaho, Nevada, New Mexico, Florida, Texas, Utah and Washington. To reach Will White directly, call 520.514.7454 or at wwhite@landadvisors.com.