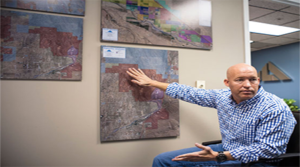 TUCSON, ARIZONA (July 14, 2023) -- As the first half of 2023 wraps up and the second half kicks off, Real Estate Daily News thought it would be a great time to get an update on the Tucson land and housing market. At the start of the year, most opinions were that 2023 would be rough. However, the market appears to have found some level of footing into Q2, and a buzzing of land activity is heard around the market.
Right on cue, we return to the "source" for land and homebuilders in Tucson, Land Advisors Organization, and Will White. We caught up with Will recently to ask some of our questions and to gather his thoughts. Will and John Carroll at LAOs work with Tucson's homebuilders well-documented as they represent most of Tucson's large-scale residential projects.
Highlights of our interview follow:
Ok Will, we are halfway through the year. What are you seeing and hearing in Tucson?
I'd describe it as conditional good news. The consensus back in January was that the residential market would be going off a cliff. This conclusion was based on November and December being rough for the homebuilders, and storm clouds were building quickly. January and February came around, and – surprisingly - builders were selling. This has not only continued; it has been picking up steam ever since.
We were initially thinking about 3,000 permits for the year, but with improving conditions and a growing need to build, we are now thinking 10-20% higher. This is great news, but now for the conditional part, the question is whether we can get this done.
How is this affecting builder acquisitions?
 Unfortunately, it's not like a race where the starting gun goes off, and everything gets going again, but I can tell you we have put most of our shovel-ready lot inventory under contract in the past 45 days. To no one's surprise, Builders pulled it in in the second half of last year, waiting for the market to reveal itself and then react. That is exactly what happened, and with the vastly improved market conditions, the second quarter was marked by the top Builders scrambling to secure inventory.  Based on the existing builder lot inventory and the absorbed rate, it's a race for 2025. We expect all builders to be active in the second half.
Give us some numbers!
Sure, I'll throw out some of the more significant ones. Historically, Tucson goes through 24,000 lots every five years, or 4800 yearly. As builders effectively took a year off last summer due to the uncertainty around interest rates, the metro area now needs approximately 7,000 lots to be built and transferred to builders for both 2025 and 2026. Sounds great, right? Unfortunately, the problem is with the supply. There are approximately only 1,850 FULLY ENGINEERED lots available in the entire market, which clearly illustrates the problem.
As a side note, most of these lots have been put under contract in the past 45 days. The next level of lots don't have all of their engineering complete, are delayed, or have significant offsite costs that are included. In short, we were behind and are falling further behind with each passing day.
What's the major issue in getting more lots ready?
Infrastructure is absolutely the biggest challenge. Roads, utilities, and drainage, basically all the master/regional infrastructure. Part and parcel to this are the rising costs of putting this infrastructure in place, and it is no secret that it takes a ton of money and time to lift off a large new master-planned community.
The good news is that many Developers are doing their part by continuing to pay to have the plats processed in the various communities. Altruistic? Not really - the savvy Developers recognize that having their infrastructure in place and lots approved will enable them to command big premiums.
You certainly are always big on the supply theme!
 I am big on supply because I have been staring at it and studying it for over a decade here. It is no joke and significantly impacts everyone's business plans. Home prices are at record highs, land prices are at record highs, material prices are at record highs, and land development costs are at record highs. This is because new home community counts, MLS resale inventory, shovel-ready lots, and labor availability are at record lows. What does this mean? Put higher home prices and higher finished lot prices. It's just math.
That plays to affordability, which is a big issue here. What is your take on how the region deals with that?
It's a huge issue, and unfortunately, it's not going to get better anytime soon. Costs are too high all around, and supply is short. On the product side, we need more diverse, dense products and municipalities to be open to approving new-era product types. If we continue to build the same homes on the same lots, things will get more expensive – and then we tack on higher impact fees and building costs! While no one likes to hear it, I fully expect that prices will stay rising for a while. Builders may consider buying land differently, making bigger investments at better prices. State Trust Land availability could also provide a bit of a welcome relief valve, but that won't make the problem disappear.
You mentioned State Trust Land; how does that play into the story here?
There are about a million acres of State Trust land around Tucson, so it would be helpful if some decent amount of that were available for development. Unfortunately, the frequency (and the size of) releases would have to significantly increase to move the needle.
Where are the deals going to come from?
Almost 80% of the homebuilder deals in Tucson are in the region's Master-planned communities, and I'd look for that trend to continue in the years to come. As mentioned earlier, the projects that have completed infrastructure will be preferred as they offer the fastest path to saleable products. I'd also look to Vail, north Marana, and Southwest submarkets to increase their respective market shares in the next 36 months.
You have been on top of this market for a long time; how does this play out?
I am always on the 'glass is half full side of the ledger and I do think it continues to stay very busy here, even if there continues to be some macro-economic uncertainty. Don't underestimate what a 12-month pause can do to a market like Tucson's! It compounds the issues we already were dealing with. We probably are in for an aggressive acquisition swing on the immediate lot inventory and 2025-2026 is 100% the main focus. For future projects, if you don't have infrastructure completed, it is going to be a challenge. On a local level, I have never seen so much industrial construction in the region and the (seemingly) insatiable demand for it. That is extremely positive news on the job front, and I believe it will continue to draw people to Tucson.
Even with our challenges, the market fundamentals are extremely solid in Tucson. We have strong demand indicators, new deals are happening, and that will continue for the next 12-18 months as the region reloads for 2025-2026!
*************************************************************
Will White has led the Tucson office of Land Advisors Organization for over 22 years. Under his leadership, the Tucson office has been recognized as the leading land brokerage company in Tucson by volume for well over a decade. Will specializes in representing the area's top master-planned and residential communities. His work with southern Arizona's homebuilders is well documented, and the office has been responsible for Tucson's most high-profile land transactions and assignments.  Will represents Tucson projects with a lot inventory exceeding 20,000 future lots and is a known go-to for speaking engagements and writing contributions. Will's long-term relationships with many key players in Tucson and Pima County enable him to continually represent public and private homebuilders, master developers, and large financial institutions effectively and efficiently. He is a member of the Southern Arizona Homebuilder's Association, Big Brothers Big Sisters of Southern Arizona, Chair of the Advisory Board, and has worked with Urban Land Institute in their Mentor/leadership program. He received the inaugural TREND REPORT Best in Class Award as the Top Residential Land broker based on transaction volume, and he has consistently earned the CoStar Power Broker recognition in the Tucson Market. This achievement is based on transaction volume and dollar value. Will graduated from the University of Arizona with a bachelor's degree in regional development and earned his Arizona Real Estate license in 1997. He can be reached at 520.514.7454 or wwhite@landadvisors.com.