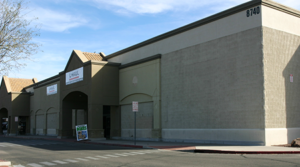 TUCSON, Arizona – An affiliate of Comvest Group Holdings sold the final remaining Haggen store in Tucson at 8740 E Broadway Blvd. to AMERCO Real Estate for $2.2 million ($42 PSF). The former Safeway, fetched $3.9 million ($74 PSF) for the 52,566-square-foot anchor building in Broadway East Plaza, at the southeast corner of Broadway and Camino Seco, when Haggen purchased it in 2015.
Comvest, a Florida-based private equity firm, bought a majority stake in Haggen in 2011. In the first two years of ownership, Comvest shrunk the number of stores from around 30 to 18.
In 2014, Safeway agreed to merge with Albertsons and in order to get approval from the Federal Trade Commission, Albertsons was forced to divest some of its stores. Comvest became interested in purchasing 146 of the stores for Haggen, and a deal was announced in December 2014. The purchase price for the 146 stores totaled $309 million, according to court documents.
Expanding from 18 stores to 164 proved to be an "unmitigated disaster" for Haggen, according to court documents. Eight months after the purchase was finalized, the Bellingham-based grocer filed for Chapter 11 bankruptcy. The company closed, auctioned off or sold 135 stores between August 2015 and December 2015, leaving 29 core stores. Those 29 core stores were auctioned off in March to Albertsons, which was the only qualified bidder. The remaining Haggen stores joined Albertsons in June 2016, with 15 stores retained by Comvest.
In November 2015, Albertsons placed a bid on two of the three Haggen stores in Tucson: $1 million for 10380 E. Broadway, a former Safeway, and $700,000 for its former store at 1350 N. Silverbell Road, which was slated to close. The Tucson stores were three of ten in Arizona sold.
The final Broadway property AMERCO purchased was one of the last remaining stores and the final Haggen store in Tucson. The transaction closed January 10, 2017.
Phoenix-based AMERCO Real Estate Co., the development and acquisition arm for U-Haul Company purchased it for conversion to a climate controlled U-Haul self-storage planned for opening in June 2017.
AMERCO looks for big boxes and warehouse properties on major commercial arterial roads, at the edge of new growth areas.
To learn more, see RED Comp #4473.