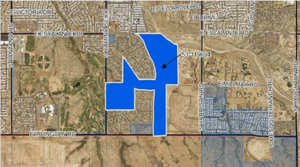 TUCSON, Arizona – KB Homes was the successful bidder for the purchase of 210 acres at an Arizona State Land Trust auction this week for $10.625 million ($50,595 per acre).  This was the first sale State Trust Land in Tucson in more than a decade. Located on Tucson's east side, east of Fred Enke Golf Course and northeast of Camino Seco and Irvington Road.  The bid was for appraised value, the lowest amount the property is legally allowed to be sold.
About 80 acres of the property had previously been subdivided and graded in anticipation of the development of 336 SFRs.  Unfortunately, this took place just prior to the economic downturn of 2008 and the subdivision was never completed. Much of the land, particularly on the eastern sides of the property, is unstable due to previous uses and would likely require significant grading and site preparation efforts.  The previously graded portion of the property has also seen some erosion issues since it has been left unattended for about a decade.
Zoned R-1, it will certainly add to the  residential growth taking place on Tucson's east and southeast side, with multiple developments in and around Vail having record high housing demands at La Estancia MPC, Rincon Knolls, as well as Mattamy Homes' new Saguaro Trails MPC on the Houghton Corridor across from Civano that began grading this month of the 173 acres community sold  to Mattamy by the City of Tucson in 2016 for $8.2 million.  Block 1 will use about 50 acres for 164 SFR lots.
The area's growth is dependent on future sales of state land such as this in the area, as parcels of state land are put up for auction will clearly dictate where and when Tucson expands.
The income from this auction sale goes to the Permanent Land Endowment Trust Fund at the Office of the Arizona State Treasurer earmarked for public schools due to Prop 123.