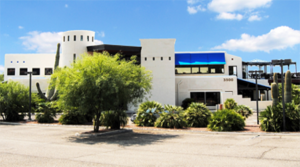 TUCSON, Arizona — The former Five Palms Steak & Seafood in the Catalina Foothills at 3500 E Sunrise Dr., Tucson sold for $1.9 million ($148 PSF) for redevelopment. The 12,800-square-foot restaurant was originally built for Café Terra Cotta restaurant that moved from St. Phillip's Square.
Located on Sunrise east of La Encantada Mall, Five Palms opened in late 2012. Over the years, the business evolved to include culinary concepts like Oliva Mediterranean Restaurant, Dovino Wine and Cigars, and the Five Palms Fine Bar.
One of Tucson's priciest fine-dining restaurants, where the least expensive steak on the menu would set you back $39 — the same price as the pate de foie gras appetizer.
Five Palms closed in September 10, 2017.
The buyers, Gateway 1048, LLC and WCCP Sunrise, LLC of Torrance, Calif. purchased the property for redevelopment into office use. The 12,800-square-foot, two-story building responds to a growing interest in office space along the Sunrise corridor.
Nancy McClure and Buzz Isaacson with CBRE in Tucson represented the seller, Landmark Assets of Scottsdale and Phil Skillings with NAI Horizon in Tucson handled the transaction, as a principal, for the investors.
For more information, McClure should be reached at 520.323.5117 and Isaacson can be reached at 520.323.5151. Skillings can be contacted at 520.326.2200 ext. 4002.
To learn more, see RED Comp #5520.