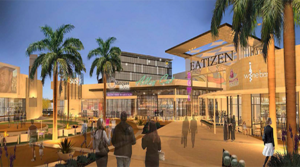 TUCSON, ARIZONA — As we reported back in December 2016, when Tucson-based, Bourn Companies (Don Bourn, manager) and its affiliate, FHM Partners, LLC announced the acquisition of the Foothills Mall from Columbus-based Schottenstein Property Group, Inc. (SPG), the property was in need of a redesign to a more Lifestyle Center.
Originally developed in 1981, Bourn has had past experience with the 620,000-square-foot mall, owning it back in 1994 when it was at 12% occupancy and then selling it in 1999 at 95% occupancy, after repositioning it into its current format of outlet and promotional retailers, restaurants and a theatre – the first Renaissance.
Foothills Mall faced difficulty in 2016 after nearly two decades of success with the outlet mall concept, after the opening of the Tucson Premium Outlets in nearby Marana. Within six months of the outdoor mall opening, major tenants such as Saks Fifth Avenue's Off Fifth outlet, Old Navy's Outlet, Hanes and Nike Factory Store closed or announced plans to close their existing Foothills Mall locations in favor of a store at Tucson Premium Outlets.
Renewal plans for the 68-acre Foothills Mall at the NWC of Ina Road and La Cholla Boulevard, in unincorporated Pima County, to undergo a massive renovation and restoration as a multi-modal live/work/play destination were submitted to Pima County's Development Services Department last month. Among the planned uses are entertainment, housing, office, retail and hospitality.
According to the proposal, "Across the country, urban and suburban shopping malls are evolving to create new environments. Consumer interaction with bricks and mortar stores is changing with the increase in online sales activity over the last 5-10 years. This change in behavior and move away from outdated mall concepts provides an incredible opportunity to redevelop and reposition the FHM property to provide a unique, exciting, regional destination and living environment with existing infrastructure to support the multi-dimensional development."
The current building space will undergo a complete redesign and modification. Portions will be demolished to provide enhanced connectivity between all the proposed uses.
To promote pedestrian/cycling activity, partially shaded walkways will be provided and included in the overall circulation plan. Pedestrian connections to the multifamily components are intended, as are linkages to the Pima County trail system.
The plan states in order to realize the consolidated, integrated mixed-use vision the owners have in mind, "an increase in density and intensity of development will be required. Moderately intense uses are already established on the Property and surround it on all sides: multi-family residential to the west, office and commercial uses to the north, and major arterial roadways with office and commercial uses to the south and east. To attain the vision, this Specific Plan permits residential, office and hospitality uses to be 120 feet or up to 10 stories."
As part of the 15 to 20 year implementation, the developers are to review utility and related needs such as water, sewer and signage on an ongoing, as needed basis. Phasing over the plan's lifecycle has not yet been established but will be implemented based on market need and demand. Individual development plans will be created and submitted for each component, according to the proposal.
Pima County Planning & Zoning Department will consider the plan at its Aug. 8th meeting.
Portions of this article come from AZ Builders Exchange.