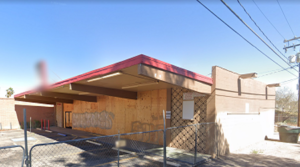 TUCSON, ARIZONA, December 8, 2022 -  Retail always has to be reinventing itself as needs change. The days of stand-alone convenience stores with maybe one or two gas pumps in front on small lots is in the past, Circle K has been selling off these former stores around the state, with use restrictions, and offering redevelopment opportunities for buyers with an imagination to match a use for today's public.
The former Circle K at 2750 N Tucson Blvd. in Tucson sold for $321,000 ($118 PSF). Built in 1978, the 2,720-square-foot building on a 9,000-square-foot lot sold to The Drawing Studio for expansion space adjoining the property.  The Drawing Studio holds art classes for youth and adults and has been around since 1992. Started by Artist Andrew Rush, his wife Ann Woodin, and 20 art friends, who shared a vision that the world is a better place when art and creative spirit are fostered as cultural necessities. Their mission is to inspire people of all ages and backgrounds to embrace art practice as a pathway to personal growth and healthy community.
Greg Furrier and Rob Tomlinson with Cushman & Wakefield | PICOR represents Circle K Stores of Tempe and Brenna Lacey of VOLK Company represented The Drawing Studio.
A second former Circle K store at 6485 E Golf Links Road in Tucson sold for $325,000 ($123 PSF). Built in 1979, the 2,647-square-foot building on a 9,166-square-foot lot was sold for redevelopment into a clothing store. The buyer was represented by Andy Seleznov of Cushman & Wakefield | Picor.
In an earlier transaction,  Camino Principal Plaza, LLC an affiliate of Coffee Exchange, c/o Jonathan Tehrani purchased the store at 5301 E Pima Street in Tucson for $400,000 ($159 PSF). Built in 1984, the 2,510-square-foot building on a 20,085-square-foot lot sold for redevelopment as an office building.
John Yarborough and David Carroll with Romano Real Estate represented the buyer and Greg Furrier and Rob Tomlinson with Cushman & Wakefield | Picor handled the transaction for the seller, Circle K Stores.
For more information on these properties, contact Furrier at 520.546.2735 and Tomlinson at 520.546.2757 who still have more properties available.
To learn more, see RED Comps #10243, 10317 and #10330.