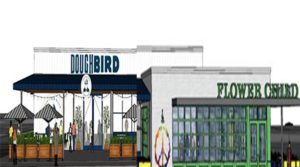 Two new Fox Restaurant Concepts brands are coming to Tucson in 2022
TUCSON, ARIZONA – Fox Restaurant Concepts purchased the former Old Chicago Restaurant at Campbell Plaza to raze for construction of two new Fox Restaurant brands, Flower Child and Doughbird.
The 6,635-square-foot building on a 41,213-square-foot pad sold for land value at $2.75 million ($67 PSF). Anchored by Albertson's at the northeast corner of Campbell Ave. and Glenn Street in the Central submarket of Tucson.  Other tenants in the center include Sauce, 5 Guys Burgers, Panda Express, and other businesses in the heart of the Campbell Avenue Corridor.
The Old Chicago building will be replaced with a new, architecturally significant 8,000-square-foot building, which will accommodate Tucson's only Flower Child Restaurant. The free-standing building will also include the first Doughbird eatery in the metro area.
The seller, DSW IREIF Tucson Retail, (G.S. Jaggi, Michael Sarabia and James Hardman, Prinicpals) were represented by Greg Furrier and Dave Hammack with Cushman & Wakefield | Picor in the transaction.
"The building was built in 1974," said Greg Furrier. "Originally built for Rueben Plank House and then converted to a CoCo's Restaurant by the same owners. It has been a Mama Louisa's and later an Old Chicago's, that closed last year during the pandemic. Fox had been looking for the right location along the Campbell Corridor for some time."

"We're always looking for great opportunities to grow in Tucson and finally found the perfect location for these two restaurants," said Sam Fox, founder of Fox Restaurant Concepts. "It's been a longtime goal of ours to bring Flower Child to Tucson, and we are excited to be able to do it alongside Doughbird, a concept that we are just beginning to grow. During what's been a challenging time for our industry, we're grateful for our loyal guests in Tucson and hope that they will enjoy these restaurants time and time again."

"We believe that they have landed at the perfect location," said Michael Sarabia.
Flower Child caters to all lifestyles from vegetarian and vegan, to meat-eating and gluten-free, to keto and paleo with their customizable, made-from-scratch menu.
As for Doughbird, guests can expect both hand-stretched and Detroit-style square pan pizza alongside rotisserie and crispy chicken, all with unexpected twists.
Common Bond Development Group, under the leadership of Brian Frakes, will collaborate with Fox on the development which is projected for completion late 2022.
Sam Fox opened his first concept, Wildflower American Cuisine, in Tucson in 1998. He has introduced dozens of Fox Restaurant Concepts brands including Zinburger, North Italia, Blanco Cocina + Cantina, and Culinary Dropout. There are more than 50 locations across the United States today.
For more information on this transaction, Furrier can be reached at 520.546.2735 and Hammack is at 520.546.2712.
To learn more, see RED Comp #9311.