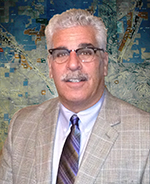 Tucson, AZ – Tucson Realty & Trust Co. is pleased to announce the affiliation of Frank Arrotta to the firm as a Retail/Investment Specialist.
With more than 35 years of experience in the real estate industry, Mr. Arrotta has had a diverse and successful commercial real estate, advertising and marketing career, starting with Del Webb Realty & Management in the early 1980's as a Commercial and Retail development specialist. For the past 23 years, he has effectively designed and implemented marketing solutions for radio, TV and digital sales teams.
Tucson Realty & Trust Co. is currently celebrating its 104th anniversary and was recently ranked Tucson's number one commercial brokerage firm (24 or fewer brokers) by Arizona Business Magazine.
Tucson Realty & Trust Co. is a full-service brokerage firm specializing in the sale and leasing of office, retail, industrial, investments and land as well as corporate services, asset recovery and property management.
You can reach Frank at 520-577-7000 or at farrotta@tucsonrealty.com