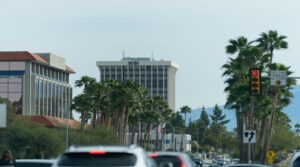 FREE COURTESY CHARGES OFFERED TO EV DRIVERS MARCH 13 – 17
Tucson, Arizona – Kent Circle Partners | Seldin Real Estate, Inc. (Scott Seldin, president) announces that 5151 E. Broadway tower has installed two Level 3, 50kW DC Fast Charging (DCFC) stations. The team at 5151 is thrilled to have this eco-friendly community amenity onsite. As a courtesy, free Level 3 EV Charging Stations will be available March 13 – 17 to celebrate this new neighborhood EV charging asset.
The building participated in TEP's Smart EV Charging Program, researched equipment, and focused on rapid charging options to best benefit EV drivers on the Eastside. TEP provided engineering and framework, along with a financial incentive. "5151 E. Broadway is proud to contribute to fast charging infrastructure in the Central Tucson area, which is currently underserved. DCFC chargers feature dramatically reduced charging times, so important in today's fast-paced world," says Property Manager Mark Isenberger.
The Level 3 DCFC stations are located off Broadway on the east driveway and are compatible with all electric vehicles, including Tesla, which requires a CCS Combo 1 adaptor. Each station has a Combo CCS1 and CHAdeMO plug. A Tesla adaptor is available for check out in the property management office Monday through Friday, 9 am – 4 pm, excluding holidays.
The commercial office tower plans to install additional charging units to accommodate tenant requests and the booming EV market. For more information, contact 5151 Property Manager Mark Isenberger, at misenberger@Picor.com.
Kent Circle Partners | Seldin Real Estate, Inc. of Scottsdale is a privately-owned commercial real estate and investment company maintaining holdings in retail, office, apartments, hotels, and land. Kent Circle Partners specialize in acquiring high-quality mixed-use real estate assets.