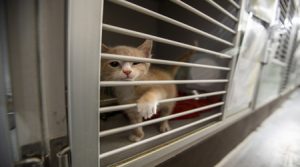 PIMA COUNTY, Sept. 28  2023 – Pima Animal Care Center is holding a free spay and neuter event, Snip n' Tip, for community cats Oct. 20-22 in PACC's Multi-Purpose Room, 4000 N. Silverbell Road.
Data from the Humane Society of the United States shows that approximately 75% of kittens born outside will not live to adulthood. TNR, Trap-Neuter-Return, is the humane and effective way to reduce the number of cats living on the streets in Pima County. It improves the cats' overall health and prevents future generations of kittens from being born outside.
Monica Dangler, PACC's Director of Animal Services, says that events like Snip n' Tip are crucial for the health of Pima County's cats.
"Trap-Neuter-Return is proven to be the best thing we can do to care for our feline friends who live outdoors," said Dangler. "We're excited to offer another excellent event to help spay and neuter even more pets across Pima County."
The Snip n' Tip event is only for community cats and kittens living outdoors in Pima County. Any public member can participate by bringing in an outdoor cat in a secure cat carrier or trap. People who bring cats will be responsible for returning them back to their neighborhood. Kittens should weigh at least 1.5 pounds and have a committed caretaker to monitor them after surgery.
If people need a trap or carrier, they can contact PACC's Community Cat Program by emailing communitycats@pima.gov. They can sign up for the event at app.waitwhile.com/book/snipntip. When signing up through the link, trappers will be notified when the cats are ready for pick up.
All cats will receive:
A brief exam by licensed veterinarian
FVRCP (Feline Viral Rhinotracheitis, Calicivirus, Panleukopenia) vaccines
Rabies vaccines
Parasite treatment as needed
Minor medical care as needed
Microchip implantation
An eartip (humanely conducted under anesthesia)
Female cats will also receive a green tattoo next to spay site (humanely conducted under anesthesia)
PACC spayed and neutered 482 community cats at their last Snip n' Tip event in February. PACC leadership are hoping to treat 600 cats during October's effort.
This event is made possible by Friends of Pima Animal Care Center, Petco Love, Clara Lee Arnold, Bonnie Kay, Melinda Correll, and Colorado Animal Rescue Express.