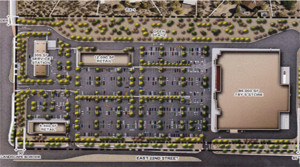 TUCSON, ARIZONA – Smith's Food & Drug Centers closed on 16.3 undeveloped acres at the northeast corner of Houghton Road and 22nd Street in Tucson for $2.84 million ($4 PSF) all cash deal.  The seller was Twenty-Second Street Baptist Church of Tucson.
Brentwood Developments plans a 96,000-square-foot Fry's Marketplace with 300-square-foot fuel station canopy. The site will also feature 6,500-square-feet and 12,000-square-feet of retail buildings to be used by other retail tenants, such as restaurants, hair salons, dry cleaners and other stores.
The plan is for the existing Fry's Food and Drug store location as 22nd Street and Harrison to be closed and sold. The new operation is being touted as the first of its kind in the Tucson area and will offer amenities such as a sushi bar, an expanded selection of meats and organic produce, an Asian bistro, Starbuck's and a wine bar. When fully operational, the new location will employ approximately 160 people, roughly 40 more than at a typical Fry's Food and Drug.
The controversial building design calling for a height of 26-feet with a four-foot parapet was approved in March 2016.  The developer received the amendment to the Houghton East Neighborhood Plan, that would allow for the building to be 26 feet tall, instead of the current 20-feet limit. Standards for non-residential development have changed significantly since the Houghton East Neighborhood Plan was adopted in 1985 and had to be addressed.
Concerns voiced by nearby neighbors were all addressed by the developer:
Elevation showing the six-foot increase would be a minor change to any view obstruction,
Using City's own definition, roof height is determined from the flat of roof height, and not parapet height.
The Fry's store at 22nd & Harrison that will be relocated will have a $3 million budget to repurpose as needed.
The necessity for the additional 6 feet lies in the fact that Fry's needs a mezzanine for offices. To minimize the height elevation, the developer proposed a declining elevation from 26 feet to 22 feet in construction.
Even with the Neighborhood Plan amendment, Brentwood Developments had to go through the rezoning process.  In November 2017, Tucson City Council signed off on a rezoning from SR to PAD-32 that will allow for the new Fry's Marketplace to go up.
Those in favor of the development outnumbered 2-to-1 those opposed at this rezoning meeting, with most of the concerns raised by nearby neighbors, environmentalists and concerned citizens opposed to big-box developments and were not from the Houghton East Neighborhood where the project is located.
Brentwood Development hired a third-party group, Westland Resources, to study any impact the development would have on native wildlife. Using a wildlife movement model developed in Arizona, the study found the grocery store and adjacent buildings would not disrupt wildlife. Westland's study in fact did not anticipate any demonstrable adverse impacts on the wildlife in the area.
Traffic improvements have recently been made to Houghton Road and 22nd Street. Enhancements included in the project were upgrading the roadway to a six-lane divided desert parkway, dual left-turn lanes, exclusive right-turn lanes and upgraded traffic signals. Other improvements were made to bike lanes, sidewalks, multi-use paths and bus pullouts, in addition to upgrades in drainage and all-weather crossings.  Landscaping with native plants, water harvesting, public art and the new Sun Tran Park and Ride were also part of the improvements in the area.
Under the traffic impact study completed as part of the submittal's preparations, the Fry's site will have five access points, two on Houghton and three on 22nd.
Brentwood, the project developer, is being represented by The Planning Center.
To learn more, login and see RED Comp #5615.