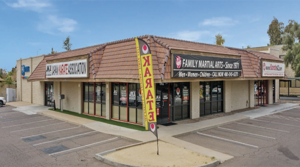 Mesa, AZ – Nick Miner, CCIM of ORION Investment Real Estate reports selling a 100% occupied property at 1258 West Baseline Road for $1,500,000 or $123 per square foot and a 7.1% cap rate.  Miner of ORION represented the Seller, Van's Golf Properties LLC, while the Buyer, Holy Land Corporation Inc, was represented by Ken Reycraft at Insight Land & Investment.
Situated in the heart of Mesa off of major arterial Baseline Road, just west of Alma School Road, the subject property benefits from its proximity to a plethora of convenience options.  The property is just across the street from two gas stations, a Starbucks, Dunkin', and other dining options.
On top of that, it's just one street down from the US-60, making it easily accessible from anywhere in the valley.  Just north of the 60 are Mesa Community College and The Campus @ US-60, both prominent education campuses.
Nick Miner, CCIM, Senior Vice President at ORION, commented, "This was a great opportunity for the Buyer.  Originally, the Buyer had the property in escrow earlier this summer but had to cancel because of a 1031 exchange of a property they were selling being delayed."
Miner continued, "When they finally came back around, we had two other offers; however, since this buyer already knew the property and nothing had changed since their previous escrow, they were selected again.  From open to close it was less than two weeks.  Though the property was fully occupied at close of escrow, the Buyer has plans to remodel the property to add further value."