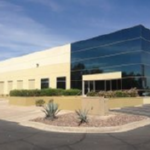 PHOENIX—Cushman & Wakefield of Arizona assisted EastGroup Properties in the negotiation of a 36,540-square-foot, three-year lease for the relocation of Creative Touch Interiors (CTI) to 1002 E. University Drive in Phoenix.
CTI will relocate in May from its current location near Sky Harbor International Airport to a facility owned by EastGroup Properties of Jackson, MS. The University Drive location totals 73,080 square feet and is fully leased to CTI and two other tenants.  This structure is part of a three-building EastGroup project totaling 177,000 square feet. The building features 26-foot ceilings and a 7,183-square-foot showroom/office component. 
 "The facility provided an ideal location and build-out for CTI's specific business needs," said Jackie Orcutt of Cushman & Wakefield. "EastGroup Properties has an incredibly streamlined negotiation and lease preparation process which enables seamless movement through complex transactions with a high degree of efficiency and effectiveness.  This was the last remaining vacancy in the project and we are pleased to reach 100% occupancy on behalf of EastGroup Properties."
Orcutt, John Grady and Jim Wilson of Cushman & Wakefield helped broker the deal. Pat Feeney of CBRE,  and Chris Gadrix of CBRE Atlanta Global Corporate Services Inc. represented CTI.