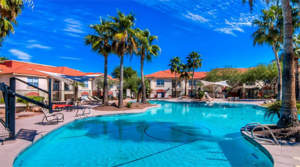 TUCSON, ARIZONA -- A Tucson multifamily residential complex is about to receive a $10 million renovation to transform it into a premier apartment community.
Gateway at Tucson Apartments, a 188-unit complex located at 2800 W. Broadway Road, will be completely renovated over the course of the next year. The complex, built in 2005 to serve college students, will be reintroduced to the market as a 272-unit multifamily community with exceptional amenities and a variety of floor plans available.
Holualoa Companies purchased Gateway in November 2018 for $12.9 million, with the intention of transforming it into a more dynamic and inviting residential community to help meet a surge in demand for multifamily in the Tucson marketplace. Multifamily occupancy in the Tucson market reached 95 percent in 2019, which has led to an increase in rents year-over-year of almost 8 percent.
Lani Baker, Vice President – Finance of Holualoa Companies, said the property was an ideal opportunity for renovation because of its location near Downtown Tucson.
"We look forward to transforming this property into a community that is truly inviting for residents wanting to live in this bustling area of Tucson," Baker said. "Because of the significant need in the Tucson market for properties such as this, we're confident that the project will be successful and will be a welcoming living environment for residents."
Gateway will remain open for current residents during construction.
Holualoa Companies plans to split each of the existing 84 four‐bedroom units at Gateway — designed for groups of students — into one‐bedroom and two‐bedroom units, renovate all unit interiors, and remedy a significant amount of deferred maintenance as part of the renovation.
Holualoa Companies has an extensive experience with multifamily assets in Arizona, having acquired more than  5,700 units. The company also has extensive office and industrial holdings in Tucson.