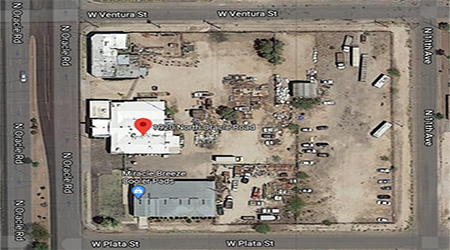 TUCSON, Arizona – Gem Show Organizer and real estate investor, Daniel Duke, traded into a Midtown Tucson city block located along Oracle to the west and 11th Avenue on the east, and Plata to the south and Ventura on the north. The property has a total of 17,624-square-feet in four buildings and a total of 2.75-acres of land area.  The single tax parcel property sold for $1,018,200 ($57 PSF improvements and $8.50 PSF for the land)
The buildings at 1920 North Oracle are home to the landmark Miracle Breeze Cooler Pads that will stay in place and continue to be leased to the cooler pad manufacturer. Miracle Breeze is the oldest and largest manufacturer of hand made 100% Aspen Cooler Pads in Arizona. Family owned and operated and doing business from the same location in Tucson since 1942.
The building to the north of Miracle Breeze, at the southwest corner of Oracle and Ventura, is boarded up and buyer plans to raze it for redevelopment.
Duke told us he had been speaking with Al Bianco of Bucking Bronco, LLC, the seller, for years to negotiate the sale of the property. Duke owns adjoining properties in the area and was able to complete a 1031 exchange in the transaction. Finally, the time was right for both parties!
"I'm pleased to have closed on the property," said Duke. "It presents an opportunity to improve this section of Oracle Road and is very needed for the neighborhood. It will be exciting just to see this corner cleaned up."
Duke is president of Gem Marketing International and an organizer of the Tucson Gem and Mineral Show, with several sites in town.
To learn more, see RED Comps #7660.