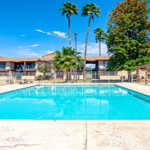 Phoenix, AZ – ABI Multifamily, Arizona's largest locally operated dedicated multifamily brokerage and advisory services firm, is pleased to announce the $15 million ($44,643 per unit) sale of the Country Creek Apartments, a 336-unit Glendale apartment community located in Glendale, Arizona.
Located in the South Glendale Submarket, Country Creek is approximately a mile from Downtown
Glendale and a short drive to The University of Phoenix Stadium and Westgate Entertainment District. "The Buyer sees an opportunity to raise rents at the property through exterior and interior renovations. The construction quality, floor plans and attractive price per unit further fueled the Buyer's interest," states Doug Lazovick, Partner at ABI, who was the lead broker representing the Buyer in the transaction. "The Seller purchased this property over 10 years ago, which is a rare find in Phoenix, given that we went through a major recession and most properties of this class have traded since then. Overall the property had good "bones", newer roofs with a warranty and is located in an emerging part of Glendale, with little nearby competition, which made it an attractive opportunity," according to Eddie Chang, Partner at ABI, who was lead broker represented the Seller. "The surrounding area within a 3-mile radius of the property has really improved since the seller originally acquired the property in 2003. The location strength coupled with the renovations planned by the Buyer should significantly improve the income at the property," states Alon Shnitzer, Senior Managing Partner at ABI, who was also the lead broker representing the seller in the transaction.
Country Creek is an all two-story apartment community built in 1985. The property consists of an attractive mix of 48% (160) 2-bed, 40% (136) 1-bed and 12% (40) Studio unit types with an average size of 634 square feet. The property is individually metered for electricity and was built with frame/stucco construction. Country Creek sits on 14.02-acres of land, with 20 total building structures, a dedicated leasing center and contiguous single family residence. Additional property features include: two swimming pools, sand volleyball court, three on-site laundry facilities, ample covered and open parking, a playground and BBQ grill areas. The property was approximately 90% occupied at close of escrow.
The Seller, KUMS Inc., is a private partnership based in Arizona. Country Creek was their only multifamily asset in the Phoenix Valley.
The Buyer is a Tempe, AZ based private capital investor. They own multiple multifamily assets in the Phoenix valley. This is their second purchase through ABI Multifamily.
The Phoenix based ABI Multifamily brokerage team of Doug Lazovick, Eddie Chang, Alon Shnitzer, John Kobierowski and Rue Bax represented the Buyer and Seller in this transaction.
For more information, contact Lazovick at 602.714.1388.