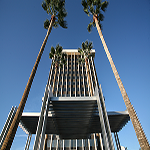 TUCSON Arizona — Everyone expected a positive Tucson Office Market report for Q1 2017 as it trends upward, but it may be doing even better than expected.
We spoke with Tom Nieman, Office Specialist at Cushman & Wakefield to ask what was happening.
Nieman told us from 2010-2015 office vacancy had hovered around the 12%-13% mark in Tucson. However, this first quarter 2017 had an office vacancy drop to 10.9%. That's almost a full percentage point drop year-over-year from when it was 11.7%.
"Businesses are feeling optimistic with the economy doing better, and businesses growing need more space," Nieman said. "Some are even buying land when they can't find what they want to build."
Sales volume, according to RED Comps, which tracks all commercial sales in Pima County, is up by 51.94% in Q1 year-over-year, with the median sale price rising from $275,000 in Q1 2016 to $390,000 in Q1 2017.
"We're not out of it (the recession) yet, but we sure are seeing improvement," Nieman remarked.
Another sign of the improving economy is at 5151 E. Broadway, an approximately 250,000-square-foot, 17-story, Class-A office tower in Tucson with 360-degrees of breathtaking views, where Rick Kleiner and Tom Nieman, represent the landlord.
When Bayview Loan Servicing recently leased 39,627-square-feet of office space at 5151, this marked an 85% occupancy for the building, with all the full floors now leased.
Mark Irvin, CCIM, SIOR, of Mark Irvin Commercial Real Estate Services, who specializes in the office market had this to say, "This may be the highest occupancy the building has ever experienced in the 30 years I have been focusing on office properties in Tucson."
Janine Irvin, CCIM, and Mark Irvin have a sublease on the ground floor. "This leaves the block of space we are representing on the ground floor (Tucson College Space) the largest block – just over 40K SF.   That space, although occupied, is available for sublease.   Good news for both the market and for Tucson's largest multi-tenant office building," Irvin expressed.
Kent Circle Partners, an affiliate of Seldin Real Estate, Inc. of Scottsdale owns the 5151 E Broadway tower and with the renewed enthusiasm in the market is doing a major remodel of the lobby and elevators. Adding a Destiny Dispatch System to the elevators, an optimization technique used for multi-elevators, which groups passengers for the same destinations into the same elevators, thereby reducing waiting and travel times when compared to a traditional elevator system where all passengers wishing to ascend or descend enter the same elevator and then request their destination. This is but one of the upgrades the owners are currently undergoing at 5151 to modernize the building.
Kent Circle Partners specializes in acquiring high-quality mixed-use real estate assets.
For additional information, Nieman can be reached at 520.5446.2728, Kleiner is at 520.546.2745 while Janine and Mark Irvin should be contacted at 520.620.1833.