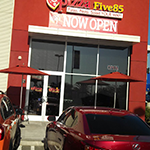 Phoenix, Arizona - Andy Kroot with Velocity Retail Group, LLC announces that Pizza Five85 will be opening two new locations in the Phoenix area in August/early September with two more stores on the horizon!
Andy Kroot, Principal at Velocity Retail is pleased to represent Pizza Five85 and is excited to be a part of their store growth. "I am looking forward to continuing to help Pizza Five85 locate and open new locations all over the Valley; they have a great concept that Arizona residents are going to really enjoy!" said Kroot.
"We are excited to open our doors in these two new locations. We can't wait to fire up the ovens and provide fresh and fast create your own pizzas, pastas, and salads!" said Wing Mar – VP of Operations.
Pizza Five85 is a new concept that is coming to Arizona, build your own pizza, pasta and salads. This is the newest thing to hit the pizza market; it is an original, one of a kind pizza store.
These new locations will enable rapid growth for Pizza Five85 due to great locations and an innovative concept that is sure to impress their customers.
The Grand Opening stores include:
SEC I-10 & Ray Road – 2,426 square foot store is located in the Chandler Pavilions on August 22nd
SEC of Scottsdale Rd and Thomas Rd –Scottsdale Retail Center- 2,434 square foot store on September 5th
The new store Leases include a 3,000 square foot store is located Avondale and a 1,500 square foot store located in Glendale. https://www.pizzafive85.com/
Please submit sites for consideration to Andy Kroot at akroot@velocityretail.com.