GRE Partners Completes $4.44 Million Industrial / Retail Sales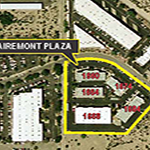 GRE Partners, LLC in Tucson announced the sale of several industrial and retail closings this week with an aggregate sale price of $4.44 million in three transactions.
Clairemont Partners LLC purchased Clairemont Plaza, a 67,609-square-foot multi-tenant business park from Foothills Business Ventures LLC for $3.65 million ($54 PSF). Located at 22nd Street and Pantano Road, Clairemont Plaza is at 1660-1684 S Research Loop in Tucson consisting of five buildings within the Eastside Research Commerce Center, a light industrial / warehouse / manufacturing, flex space business park. Built in 1986, the property sits on a 5.65-acre lot.
Gary Emerson of GRE Partners LLC represented the seller and Rob Glaser of Cushman & Wakefield | Picor represented the investor.
7770 AKE LLC, dba Marcel's Total Fitness & Athletics, purchased a 7,200-square-foot former day care center at 7770 E. Wrightstown Road in Tucson for $572,000 ($79 PSF).  The seller was Realty Income Corporation. The buyer purchased the property to convert it into a state-of-the-art fitness and training facility. Property is located at the southwest corner of Wrightstown and Pantano Road, adjoining Catalina Village Shopping Center anchored by PetCo and Brawley's Restaurant.
The buyer was represented by Gary Emerson of GRE Partners, LLC and the seller was represented by Rob Tomlinson of Cushman & Wakefield | Picor.
All Makes and Models Auto Repair, a tenant in building prior to sale, purchased the auto repair facility at 1305 E. Benson Highway in Tucson from Corfinium Holdings LLC of San Francisco for $220,000 ($72.37 PSF). The buyer plans to continue to occupy the 3,040-square-foot buildings on .74-acre as an owner / user.
Gary and Randy Emerson of GRE Partners, LLC represented the Seller in the transaction.
For more information, Glaser and Tomlinson can be contacted at 520.748.7100. Gary and Randy Emerson should be reached at 520.305.3589.
To learn more, see RED Comp #3821, #3838, and #3841.