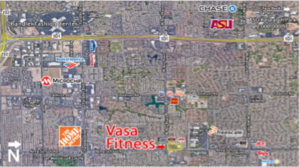 PHOENIX, ARIZONA — Ray Cashen of Cashen Realty Advisors says that the Great Recession of 2008 left a massive overhang of Big Box Retail Buildings exceeding 6 million-square-feet Valley wide.  This situation was made worse as a result of competition from online retailers like Amazon, eBay, Wayfair and Overstock.  As the retail market recovers, the Big Box Retail Building supply has dwindled to less than 4 million-square-feet in Metropolitan Phoenix.  Health clubs, schools, mini storage, offices and healthcare uses have filled many of the Big Box vacancies.  Smaller footprint stores of retailers like Target have back filled vacancies left by   Sports Authority and Toy R Us.
The trend continues with a recent transaction. Store Capital Corporation, headquartered in Scottsdale, Arizona, has purchased a 62,286-square-foot building situated on a 6.87 acre parcel at 1200 N. Alma School Road, Chandler, Arizona, for a price of $3.45 million ($55.39 PSF).  VASA Development LLC, Orem, Utah, Craig Donaldson, CEO, entered into a sale leaseback transaction with the Buyer.  The Seller in the transaction was Five Sons Furniture AZ LLC, Mike Sensing, Principal of Pruitt's Fine Furniture.
VASA Fitness intends to invest an additional $3 Million in Tenant Improvements building out a state-of-the-art health club facility within the property.  VASA Fitness' Phoenix expansion plans include five locations in the Valley and the Chandler site is part of the Metropolitan Phoenix footprint.  VASA has over 200,000 fitness members and currently owns fitness clubs in Utah and Colorado.
As the economy strengthens, additional absorption within the Vacant Big Box Sector is anticipated.  Industry experts predict as much as 2 million-square-feet of Big Box absorption could occur by the end of 2018.  While there are many traditional retail centers that have survived, Commercial Retail Shopping Center Development has reinvented itself out of necessity.  The end result is more choices and convenience for the consumer…and that ultimately is a welcome development.
Ray Cashen of Cashen Realty Advisors represented the Seller in the Store Capital/VASA transaction.  For more information, contact Ray Cashen at 602.393.4447.