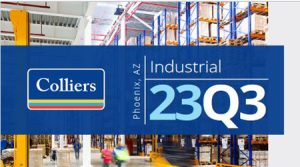 New 12 Million Square Feet Elevate Net Absorption and Vacancy Rate
PHOENIX,  (Nov. 8, 2023) – The Greater Phoenix industrial market posted its historically  highest level of new industrial space completions during third quarter, adding 12 million square feet to the city's inventory.  This drove a rise in net absorption and also elevated the vacancy rate, according to a report released by Colliers in Arizona.
The industrial market of Phoenix remains the strongest sector in the city's commercial real estate market.  Prolonged delays in construction resulted in an avalanche of new completions during third quarter, bringing 12.04 million new square feet.  This is the largest amount of product ever delivered  in a single quarter in Greater Phoenix.  These deliveries increased overall inventory by 3.04 percent.  Approximately 21.5 percent of the 12.04 million square feet were delivered pre-leased.  Three projects delivered offer in excess of one million square feet, two of which are 100 percent vacant.  The largest portion of the new space, 39.3 percent, is located in the Southwest submarket cluster. Year-to-date, the Southwest sector has added 7.5 million square feet.  The Northwest submarket has added the largest amount of new space during 2023 with 8.1 million square feet added to that area's inventory.  Currently there are 40.5 million square feet of industrial space under construction, 19.4 percent of which is pre-leased.
The robust level of deliveries during third quarter helped elevate net absorption to 4.02 million square feet.  Year-to-date, Greater Phoenix has posted 12.8 million square feet of industrial net absorption.  Historically, this is very strong net absorption, but nonetheless 40.4 percent below the first three quarters of 2022.  The market experienced a softening of lease demand for spaces 300,000 square feet and larger.  During third quarter, demand was led by tenants seeking 20,000-100,000 square feet.  The largest lease of the quarter was signed by restaurant equipment company Parts Town, which leased 420,536 square feet at C | 303 Building B.
After five consecutive quarters of vacancy levels at or below 3.0 percent, delivery of new inventory has pushed vacancy to 5.6 percent.  This marks a 260-basis-point increase quarter-over-quarter and a 320-basis-point increase year-over-year.  This is not due to tenant move-outs, but attributed to 9.4 million square feet of vacant new inventory being added to the market during third quarter.  The largest increase in vacancy was experienced in the Northwest submarket, which has delivered 8.1 million square feet of new product during 2023. The overall submarket has seen a small slowdown in lease activity of large buildings.  There are 13 existing buildings offering more than 450,000 square feet and 10 of these are completely vacant.
For the first time in the past four quarters, year-over-year growth fell below 20 percent, ending the quarter at $1.03 per square foot, marking a 17.7 percent increase and posting a quarter-over-quarter rise of 1.81 percent.  During the past 12 months the market has averaged a 25.6 percent year-over-year rental rate growth.  As a result, tenants are beginning their negotiations for renewal and new space early.  Businesses are tryintg to lock in existing rates before future increases.  The Northeast submarket leads the market with the highest rental rates at $1.44 per square foot.  All five submarket clusters have experienced rental rate increases both year-over-year and quarter-over-quarter. The Southwest submarket, for the third consecutive quarter, posted the largest increase year-over-year, elevating 44.1 percent and ending at $0.88 per square foot.
Increased interest rates continue to slow down investment activity.  Sales volume increased a slight 1.85 percent during third quarter, posting $594 million in transactions.  Sales volume decreased 47.1 percent compared to third quarter 2022.  Sellers are becoming more creative during this challenging environment, some offering seller financing if they are in a position to do so.   During third quarter, sale leaseback transactions comprised 15.5 percent of all sales.  Year-to-date sales volume for Greater Phoenix reached $1.6 billion, down 51.25 percent compared to the first three quarters of 2022. The Northwest submarket led the overall market in sales volume for the second consecutive quarter.  The area posted $307 million in sales, equating to 51.6 percent of the overall market's sales.
The robust volume of new deliveries and the pipeline of deliveries anticipated in upcoming quarters will lead to a projected vacancy of 5-6 percent.  Leasing activity is forecast to remain strong, but lower than levels experienced in 2022. Elevated interest rates are dampening the pace of new projects starting, which will help prevent an over-built condition in the marketplace.  While conditions are tightening, the industrial market is expected to be the dominant sector of the Greater Phoenix commercial real estate market for the next few years.
See full report here: Arizona Industrial Report Q3 2023 Final