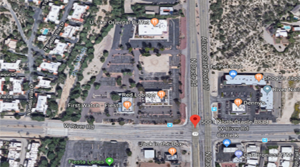 TUCSON, ARIZONA – An investment group of seven LLCs managed by Steve Grimm of Grimm Commercial has acquired the Fiesta Plaza at the northwest corner of Oracle and River Road in Tucson for $5.3 Million and is planning to bring RoadHouse Cinemas to the site.
The acquisition followed the sale of a ground lease in Marana with a leased fee interest to Village Inn at 5955 W Arizona Pavilions Drive for $2.6 million and was the downleg in the 1031 exchange.
The Fiesta Plaza purchase includes the Red Lobster Restaurant and First Watch Restaurant in addition to three vacant pads. The U-like Buffet was not included.
The plan is to now bring the popular Roadhouse Cinemas to the back pad, Grimm told us. Roadhouse Cinemas has locations at Crossroads Festivals Shopping Center at Grant Road and Swan in Tucson, and two others in Scottsdale and Colorodao Springs.
Open 365 days a year, RoadHouse Cinemas offers an inviting movie and dining experience, with an extraordinary restaurant menu created by an award-winning chef and restaurateur, an impressively creative full bar featuring high quality wines and craft beers, and overwhelmingly comfortable recliners, all to be enjoyed while experiencing state-of-the-art digital projection and 7.1 Dolby Digital Surround Sound!
For additional information Grimm should be reached at 520.323.9752.
To learn more, see RED Comps #6634 and #6641.