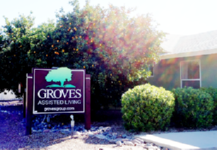 Groves Assisted Living Homes, LLC of Tucson (Sherre and Marshall Weeks) purchased the Groves Assisted Living facilities for $2.5 million ($42,000 per bed). The sale included three properties, 4014-4034 E Pima Street, 4110 E Spring Street and 2785 N Calle De Romy in Tucson and comprise six 10-bed licensed homes and an SFR. Convenient to Tucson's central and eastside, the gated communities are fully secured and access controlled allowing our residents freedom to enjoy the outdoor environment.
With each residence designed and built specifically to serve the needs of seniors in need of special assistance with their daily activities, the Groves has been a part of Tucson's adult care community since 1992, Arthur and Anita Flagg the sellers, joined the operating partnership in 1996 and in 2009 bought out the other partners.
The Groves meets all assisted living requirements for accessibility while maintaining a secure home environment. Each home has a comfortable living area where residents can mingle with others, watch television and enjoy the companionship of our caring staff.
The dining rooms are spacious and allow plenty of room for residents and guests to eat together. The open floor plans with wide hallways and accessible bathroom facilities are well suited for the care of our residents. Spacious bedroom options include companion rooms, private rooms and suites.
Rooms can be personalized with the resident's own furniture and decorative items. Porches and outdoor walkways allow ample room to enjoy our Arizona climate in a safe and secure environment.
Bob Webb with R.W. Webb of Tucson handled the transaction for buyer and seller and can be reached at (520) 296-2230 for more information.
Login for additional information.
[mepr-show rules="58038"]The sale date was 12/2/2013. Buyer purchased with an SBA loan. No income information was obtained.[/mepr-show]