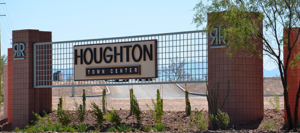 Houghton Town Center's first store, a 99,000-square-foot Walmart,  opened in 2013 and the center hasn't stopped growing since with a mix of convenient services and popular restaurants that cater to the residents of Rita Ranch, Vail and Corona de Tucson as well as the +/- 6,500 professionals working at the nearby UA Tech Park.
Hughes Federal Credit Union recently purchased a 44,339-square-foot pad at Houghton Town Center for $1 million ($22.55 PSF) from Houghton Developers, LLC, the developer, an affiliate of Diamond Ventures of Tucson.
Hughes will be joining the 60+ acre Walmart Supercenter anchored community shopping center located in southeast Tucson at the intersection of Houghton and Old Vail Roads. Construction is not expected before next year for the new credit union branch
Other pads open for business include Panda Express, Discount Tire, and Dunkin Donuts with McDonalds and BrakeMAX coming soon. The first shops are also open and fully leased to such tenants as Dental Village, Champion Pool and Spa Supply, Nationwide Vision and SuperCuts. A second 9,200-square-feet of shop space will soon break ground to the west of the existing shops' pad, with more pads in negotiation.
The 11,500-square-foot Northwest Emergency Center is currently under construction and on schedule to open by year end. Click here for full story
Shannon Murphy with DVI Realty of Tucson and Ben Craney with NAI Horizon of Tucson represents the seller / developer, Diamond Venture. Brian Harpel with The Harpel Company of Tucson represented Hughes Federal in the transaction.
To learn more Murphy can be reached at 520.577.0200 and Craney is at 520.326.2200. Harpel can be contacted at 520.721.7999.
For additional information see RED Comp #3061.