Hastings Closing all stores, Liquidating – Six in Arizona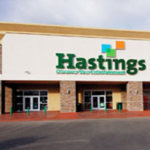 After more than a month of bankruptcy proceedings, Hastings Entertainment will close all stores by Oct. 31.
Hilco Merchant Resources LLC and Gordon Brothers Retail Partners LLC purchased Hastings Entertainment at auction Wednesday and will oversee liquidation of the stores, according to a statement from Hastings issued Thursday.
Five weeks ago, Hastings filed for Chapter 11 protection with the goal of expediting our search for a buyer that would help us complete our remerchandising strategy and position our business for long-term success. At the completion of the sale process yesterday, the winning buyer was a joint venture that will instead oversee a liquidation of our stores to ensure we are maximizing the value of all of our remaining merchandise and assets as we prepare to close.
All Hastings stores, e-Commerce business and corporate office will all discontinue operations at the end of this process.
On Friday, July 22, the Bankruptcy Court approved the agreement with the companies who will oversee the store closing sales, Hilco Merchant Resources LLC and Gordon Brothers Retail Partners LLC.
The companies are authorized to advertise the move as a "store closing," "sale on everything," "going out of business" sale, according to the Amarillo Globe-News where Hastings Entertainment is headquartered in Amarillo.
Hastings filed for Chapter 11 bankruptcy June 13, citing increasing numbers of competitors and the declining demand for physical media like music, movies, books, games and rentals.
The Wall Street Journal reported Hastings' debts included $80 million in loans, $59 million in trade bills, and in 2015, the company's losses were $16.6 million on $401 million in revenue.
Hastings was founded in 1968 and has 126 stores throughout the United States.  The list of stores include six (6) Arizona as follows:
#9874  1985 Hwy 95  Bullhead City  AZ 18,600 SF
#9694  Kingman Square  Kingman  AZ 15,950 SF
#9801  321 Lake Havasu Ave. North  Lake Havasu  AZ 25,020 SF
#9851  940 Willow Creek Rd.  Prescott  AZ 22,609 SF
#9802  The Center of Sierra Vista  Sierra Vista  AZ 29,279 SF
#9810  Hastens Shopping Center  Yuma  AZ 27,500 SF
For a full list of the 126 stores closing click here: bidasset