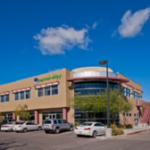 This article has been archived, please login for access or subscribe now for a free trial.
The medical / administrative building at 4881 E Grant Road in Tucson was purchased by Hazen Enterprises through affiliates for[mepr-show rules="58038"]$4.3 million ($284 PSF) from BP Crossroads Investors, LLC (Don Bourn, managing member). The two-story, 15,000 sq. ft. building is located on just under an acre in The Crossroads Festival Center, at the northeast corner of Swan and Grant Roads.
The seller, an affiliate of Bourn Partners, developed the property in 2008 as a build-to-suit and sold it fully occupied to Genesis OB/GYN, the parent company of Crossroads OB/GYN. The second floor serves as administrative headquarters for Genesis with medical space for seven OB/GYN doctors on the ground floor.
Genesis is the parent company to over a dozen OB/GYN, Diagnostic Imaging and Maternal Fetal Medicine centers in the region.
Tucson-based Hazen Enterprises began as Hazen Brothers Construction in 1981, a family owned and operated enterprise, the construction company built townhomes. In 1986, that portion of the business was halted when tax laws changed and Hazen Enterprise continued its property management and commercial real estate investments in the community. Brandt Hazen, son of Paul Hazen and nephew to Steve and Jeff Hazen the company founders, took over the business about 12 years ago. Hazen currently manages 426 townhomes in 30 locations and approximately 200,000 sq. ft. of office space.
The investor recently sold another office building at 3160 E Transcon Way in Tucson to Infinity Insurance for its new Tucson location. This transaction was the buyer's up-leg in a 1031 exchange. Additional information on this prior sale is available to subscribers here.
Hazen pointed out that there was more involved than just doing a tax deferred exchange when deciding to purchase a property. Hazen explained, "It's about relationships and that means the people involved, not just the property. We look for relationships, not just properties. It's more than a leased building to us, it's a new partnership with Genesis." Hazen takes as much pride in the relationships as the townhomes his company has built in Tucson.
Genesis is the parent company to over a dozen OB/GYN, Diagnostic Imaging and Maternal Fetal Medicine centers in the region.
Michael Sandahl, Senior Vice President of Investment Properties and David Montijo, First Vice President, at CBRE in Tucson handled the transaction for both parties.
Hazen can be reached at (520) 795-8429. Bourn is at (520) 323-1005. Sandahl can be contacted at (520) 323-5115 and Montijo is at (520) 323-5136.[/mepr-show]
[ismember]The precise sale price was $4,265,000. Property sold at a reported 9.14% cap rate, a lease rate of $26 PSF/ NNN. There was a 30-day look and 30-day close. The building SF was reported by the buyer per appraisal survey at time of sale as 15,000 SF, this differs slightly from the County Assessor number of 14,771 SF. Broker reported that the property was off-market when it sold. Land area is 43,180 SF, or .99 acre.[/ismember]