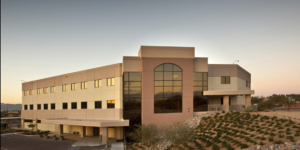 TUCSON, ARIZONA – Healthcare Trust of America, Inc. of Scottsdale (NYSE: HTA), the largest dedicated owner and operator of medical office buildings ("MOBs") in the United States, based on gross leasable area ("GLA"),  renewed its leased office space to Tucson Orthopaedic Institute at La Cholla Medical.
The tenant, Tucson Orthopaedic Institute, leased 20,317-square-feet at 6320 N La Cholla Blvd. in Tucson with Northwest Tuscon Surgery Center on-site. Gateway Medical Plaza is a 60,160-square-foot, three-story medical office building on the Northwest Medcal Center Campus, at the southeast corner of Orange Grove and La Cholla.
Dean Cotlow of the Cotlow Company in Tucson handled the transaction valued at $2.5 million.
For more information, Cotlow can be reached at 520.881.8180 or visit it at https://www.cotlow.com/