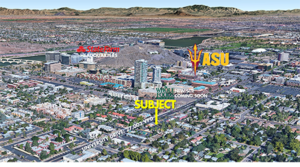 TEMPE, Arizona — This was a very rare opportunity to purchase in Downtown Tempe. The retail redevelopment at Arizona State University sold through bankruptcy court for $890,000, or $327 per square foot.
Located on the southwest corner of University Drive and Wilson Street, the vacant retail sits adjacent to Arizona's first Whole Foods Market 365. Downtown Tempe will get its first new grocery store in more than a decade, which broke ground in mid-July 2017. The 365 version at The Local, the nine-story high-rise that sits adjacent from the recently sold redevelopment opportunity, will be a more streamlined design and have more budget-friendly options than a typical Whole Foods store.
Andrew Harrison, Senior Vice President of ORION Investment Real Estate, represented the Buyer in the sale. "505 W University was a unique and rare opportunity to purchase a retail redevelopment site in Downtown Tempe. The previous owner was in bankruptcy, so the Buyer had to purchase the asset via the United States Bankruptcy Court. The sale was subject to other bidders paying more for the asset at the bankruptcy hearing, which was about three months after we opened escrow. The Buyer did not know if we had a deal until five days before close of escrow, so this sale was far from a traditional transaction," said Harrison.
The Seller was Tumbleweed Center for Youth Development via United States Bankruptcy Court. The Buyer was Kobold 505 W University, LLC, who competed with multiple other bidders.