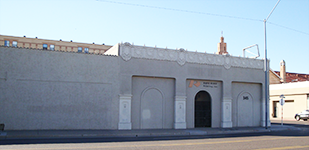 Phoenix, Ariz. – CBRE has completed the sale of the historic building, Welnick Bros. Marketplace located at 345 W. Van Buren Street in Downtown Phoenix. The property, which has been earmarked for a future, urban-infill retail project, commanded a sale price of $930,000.
Christoper Ackel and Pat Horan with CBRE's Phoenix office negotiated the transaction on behalf of both buyer and seller. The buyer was a joint venture between Mr. James Kuykendall, a former Bar-S Foods Co. CFO, and Mr. Pat Cantelme, a former CEO of PMT Ambulance. The seller was Joyce Reiff.
"The development of downtown continues to be a positive trend for the City of Phoenix," said CBRE's Ackel. "A strong downtown core is essential to an economically strong central business district and projects like the one planned at Welnick Marketplace will only enhance what Downtown Phoenix offers those who frequent the area, whether because they live or work downtown or they want to experience one of the many entertainment options in the area."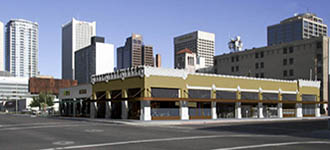 Welnick Bros. Marketplace is listed on the Arizona State Historic Property Inventory and the City of Phoenix considers the building one of the most distinctive Spanish Colonial buildings in Phoenix. The property was built in 1927 by Leo and Ed Welnick. The brothers came to Arizona in 1912 to build their grocery business. At time of construction, Welnick Bros. Marketplace was one of the best equipped groceries in Phoenix, even including cold storage for fish and poultry. The builder was Wasielewski Contruction Company, whose projects also include Brophy College Prepatory School, The Luhrs Tower and the Hotel St. James.
Most recently, the property was home to Dave Reiff Printing Co. Dave and Joyce owned and operated the printing company for nearly 40 years, but the property has been vacant the last ten. Mr. Cantelme and Mr. Kuykendall have plans to restore and redevelop the property for retail use and will retain the Welnick Marketplace moniker, dropping the "Bros." The purchase and redevelopment of Welnick Marketplace is the first urban infill project for Mr. Kuykendall and Mr. Cantelme, but will likely not be the last. The two say they are exploring other potential acquisition and redevelopment projects that will bring value to the City of Phoenix.