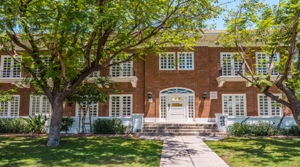 Phoenix, Ariz. – While adaptive reuse has been a popular trend for older properties in Phoenix, The Power Apartments, a Federal Revival Style building located on North 3rd Avenue, is going back to its historic roots in what is being called an "adaptive restoration" showcase.
Originally developed in 1914 as an apartment building, this redeveloped office building will have its grand opening in October, coming back to the market as 12 apartment units. On the eve of its 105th anniversary, this rehabilitation captures the essence of a modern transformational property at 3rd Avenue and Roosevelt in the heart of downtown Phoenix's revival.
Bryan O'Keefe, principal of SBD Ventures LLC, notes, "This project was very important to the community, and we took great care in working with the City of Phoenix Historic Preservation Office to maintain the building's classical and historical significance, while also working collaboratively with our development partners to produce a uniquely designed offering to the vibrant Phoenix housing market".
SBD Ventures LLC worked in collaboration with architecture firm Tomecak Design and general contractor Creative Edge Stoneworks LLC to design and build four two-bedroom and eight one-bedroom units. The original white oak floors were restored, and the original brick fireplaces preserved in the redesign. The living areas are open for comfort and entertainment.
While there has been resistance in some quarters to "reimagining" of historic properties in the Roosevelt Row district, SBD Ventures LLC's efforts represent a careful curation and merging the modern and historic at a core level.
Residents will enjoy open kitchen spaces with grey quartz counter tops, white shaker cabinets and stainless-steel appliances. The bathrooms are classically designed with penny floor tiles and subway tile shower surrounds. Second floor units include balconies overlooking Roosevelt Street and 3rd Avenue and have a spectacular view of the downtown Phoenix skyline centrally located in the Roosevelt Row Arts District.
"All the units are new and modern but fundamentally resemble the original," O'Keefe said in an interview. "For example, we've rebuilt the second-floor balconies and put modern windows in place, but we've modernized and pulled it out to the current standards. The external façade is exactly what you'd expect from 1914."
This opportunity was driven by increasing demand for housing in the downtown core. "Downtown Phoenix, particularly Roosevelt Row, is one of the most sought-after areas in the country for unique and interesting multifamily dwellings," said Alon Shnitzer, senior managing partner at ABI Multifamily.
ABI Partner Eddie Chang added, "Phoenix is not known as a market with a generally rich sense of history in its offerings, and the fact that Power Apartments was a high-demand apartment community, adapted to a trendy office environment and that has now been lovingly restored to state-of-the-art residential that maintains its sense of history and identity will ensure an immediate and vocal demand."
The property will be preleased and managed by Twenty-Four Seven Property Management (480-718-6888).