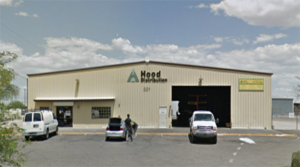 TUCSON, Arizona – The Hood Distribution / McEwen Group building at 501 S Toole Avenue in Tucson sold for $1.468 million ($47 PSF) in a net lease investment sale. The 31,160-square-feet of buildings was built in 1972 and sits on a 3 acre lot. It was 100% occupied at time of sale to a single tenant.
Hood Industries, Inc. is a blend of wood manufacturing and distribution concerns that include two plywood and four lumber manufacturing plants, and fourteen specialty wood product distribution operations, located in thirteen states serving the northeast, southeast and southwest United States.
The Tucson facility opened its doors in the Tucson Market in 1985 as Southwest Hardwood. The facility was expanded in 1998 to its current 26,000 square foot of covered storage space. The Branch was acquired in 1998 by Hood Industries and is currently doing business as Hood Distribution / McEwen Group. With products shipping in via rail direct to the facility, the company serves its customers with the highest quality products at very competitive prices.
Rob Glaser with Cushman & Wakefield | Picor represented the seller, JBM Technologies of Sedona, Arizona (John Brent Mullen, manager).
The investor was a Tucson Trust, WAA GST Exempt Trust, and represented by Russ Shaw of Ventura Properties in Tucson.
For more information, Glaser can be reached at 520.546.2707 and Shaw should be contacted at 520.293.7441.
To learn more, see RED Comp #6044.