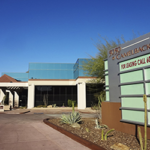 PHOENIX, AZ – Hoskin-Ryan Consultants, Inc., a full-service, civil engineering firm has signed a long-term, 12,808-square-foot office lease at 5050 @ Camelback located at 5050 N. 40th St. in Phoenix. Move-in is expected in May.
Craig Coppola, CCIM, CRE, SIOR, and Andrew Cheney, CCIM, SIOR, Principals, and Gregg Kafka, CCIM, an Associate with Lee & Associates, represented the landlord Mark IV, Capital Inc. of Newport Beach, CA, while Scott Nelson with Commercial Properties, Inc. represented Hoskin-Ryan in the transaction.
5050 @ Camelback is situated just north of Camelback Road on 40th St. inthe Camelback Corridor submarket. The property features 100% underground parking, completely refurbished common areas, on-site gym facilities, country club-style restrooms, excellent Camelback Mountain views and all the retail, shopping and entertainment amenities the corridor has to offer. Centrally located just minutes from Scottsdale, Central Phoenix and Phoenix Sky Harbor International Airport.
For more information, Copppola can be reached at 602.954-3762, Cheney is at 602.954-3769, and Kafka should be contacted at 602.954-3777.