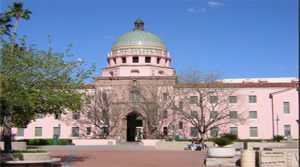 PIMA COUNTY — Fifty years ago this week President Lyndon Johnson signed the Fair Housing Act into law. To recognize that achievement, the Pima County Housing Center, along with community partners, will host a forum geared for people re-entering society following incarceration and for property owners, managers and non-profit housing agencies owners who might rent to them.
The event will take place Friday, April 20, from 8 a.m. to noon at the Housing Center, 801 W. Congress St. Pima County Board Chairman and District 5 Supervisor Richard Elías will serve as emcee.
Panel discussions will focus on management strategies and community resources that will help ensure these landlord-tenant relationships meet and exceed the requirements of the Fair Housing Act and other federal, state and local regulations.
"Fair housing is good business and good for the community,' said housing Center Manager Marcos Ysmael. "It provides a foundation to people on the margins and allows them to put down roots, find work and services and maintain good mental and physical health. For property owners it fills vacancies and provides income."
The day also will include the personal stories of former inmates who have successfully made the transition from prison and can offer insight on the process.
Registration is closed but the event will be shown live that morning on the Housing Center's Facebook page and on televisions in the Center's community room and reception area. Registered attendees may receive a certificate of participation.
The Pima County Board of Supervisors declared April "Fair Housing Month" to mark the Fair Housing Act's Golden Anniversary. The United States Department of Housing and Urban Development recognizes each April as "Fair Housing Month."