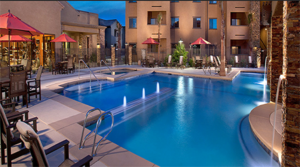 TUCSON, Arizona – The Vail Voice reported recently that Vail Arizona, a submarket of eastside Tucson, is getting its first luxury apartment complex. HSL Properties (HSL) is constructing a 312-unit luxury apartment complex in Rita Ranch at 9410 E Valencia Road, at the southeast corner of the Valencia and Nexus, adjoining the Walgreens.
The development will be called Encantada at Rita Ranch.
HSL purchased the approximately 17-acres in 2017 for $3,775,000 and has announced ground breaking to take place this month with first units available to rent for June 2020, and an anticipated completion in 18-20 months.
HSL Properties specializes in hotel and luxury complex development throughout Arizona. HSL is especially known for building quality multi-family housing in the Southwest, with headquarters in Tucson. As HSL Chairman Humberto S. Lopez, noted, "Apartments is our forte." HSL is the single largest apartment owner in Southern Arizona.
The project will consist of 16 buildings, each 2- or 3-stories high. All apartments will be 1- to 3-bedrooms and will include covered parking and have balconies and/or patios.
The Encantada at Rita Ranch, like other Encantada luxury apartments, will include a clubhouse with a fully equipped fitness room, rental room for parties or special gatherings, a movie theater room, and a swimming pool.
For more information regarding this development and other HSL Encantada properties in Metro Tucson and Phoenix, visit https://hslproperties.com/