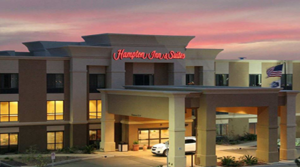 TUCSON, ARIZONA — HSL Properties purchased the Hampton Inn & Suites Tucson East/Williams Center, located at 251 S. Wilmot Road in Tucson, for $8.2 million ($81,188 per room) with plans to renovate the 101-room hotel, built in 2009.
This is the second recent hotel renovation for HSL at Williams Center, in 2015 HSL bought the DoubleTree by Hilton at 5335 E Broadway Blvd., formerly an Embassy Suites, at Williams Center for a $3 million renovation that includes a redesign of the lobby and restaurant, updates to the pool and exterior, and fully-revamped guest rooms.
The Hampton Inn features amenities such as a 24-hour business center, express check-in, and express check-out. This hotel has also has meeting facilities measuring 952 square feet (86 square meters), including a meeting room for up to 50 people.
Guest amenities include an outdoor pool, fully equipped fitness center, standard in-room and lobby WiFi, breakfast and beverage common areas, florist and on-site convenience store.
HSL now owns nine hotels, including the Ritz-Carlton at Dove Mountain and El Conquistador Tucson resorts, with over 1,700 guest rooms in total.
HSL is also building two new Hampton Inn hotels in Marana with 101 rooms, and in Rita Ranch with 104 rooms.
To learn more, see RED Comp #6389.