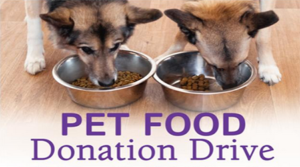 TUCSON, AZ – The Humane Society of Southern Arizona (HSSA) is dedicated to helping pets and the people who love them during these difficult times. In response to the economic burden that the current pandemic has placed on Tucsonans, HSSA will continue to provide food for pets in need through our monthly Pet Food Distribution Program. In order to assure we have sufficient supplies to meet the increased need, we are asking the community to help collect pet food donations.
How can I help? Make a donation of unopened pet food to HSSA between 9AM-4PM on Friday, April 3rd and Saturday, April 4th. These donations will then be offered at our monthly pet food distribution date to families in need of assistance.
Donations will be accepted at HSSA Main Campus at 635 W. Roger Rd. and also at HSSA Thrift Store at 5311 E. Speedway Blvd. HSSA Thrift Store is not open for business at this time and HSSA Main Campus is open for appointments only. Gate attendants will help donors with their pet food donation.
Steve Farley, Chief Executive Officer at HSSA, explained, "At HSSA we are proud of the fact that we serve pets AND the people who love them. Now is the time for us to come together to help those in need. We hope you will join us in easing the burden of community members in crisis by keeping their pets fed in the upcoming weeks."
HSSA faces reduced revenue due to suspended services, cancelled events and more. Help HSSA continue this important work ahead by making a donation at www.HSSAZ.org/DONATE.