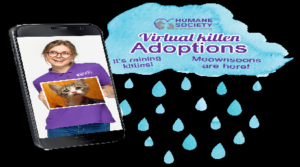 TUCSON, AZ – The Humane Society of Southern Arizona (HSSA) launched its first ever virtual kitten adoptions. It's kitten season and HSSA's shelter and foster families are inundated with adorable kittens looking for forever homes. As of today HSSA currently has 240 cats and kittens in their care and there's never been a better time to bring a loving feline into your home!
In observance of social distancing guidelines we are now offering ZOOM adoption counseling meetings. After chatting with an HSSA Adoption Counselor you will be given an appointment to pick up your cat from HSSA Main Campus at 635 W. Roger Rd.
"If you're interested in adding a cat to your home now is the time! They are waiting for you. If you are looking for a kitten but want to keep your family as safe as possible during these uncertain times the Virtual Kitten Adoption is definitely the way to go. " said Morgan Treiber, HSSA's Adoption Supervisor.
HSSA's Adoption Counselors will go through basic kitten care and help you prepare your homes for your incoming feline. You can also purchase any needed kitten care items at our PAWSH merchandise store when you pick up your new cat! To learn more and to see our adoptable kittens online please visit www.HSSAZ.org/Virtual
Every summer animal shelters across the state are filled to the brim with kittens and puppies, and HSSA proudly announced that this June they adopted out more cats than in any other month since June 2015. They attribute this to the dedication of our community in opening their homes to pets in need and the resilience of HSSA's family of staff and volunteers who have really stepped up­ through this pandemic to help pets and the people who love them. With this new Virtual Kitten Adoption program, July will break even more records. To see all HSSA's adoptable pets please visit www.hssaz.org/adopt and to learn more about virtual kitten adoptions please visit www.hssaz.org/virtual.