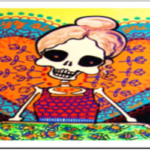 TUCSON, AZ — James P. Robertson Jr., CCIM, Senior Commercial Associate Broker with Realty Executives Tucson Elite, assisted the tenant, Brother John's Restaurant Group: dba Abuela's Cocina Mexicana in negotiating the lease for an Authentic Abulea's Kitchen Restaurant located at 60 N. Alvernon Way, Tucson AZ located on the northeast corner of Broadway Blvd and Alvernon Way, the former iconic Old Pueblo Grill.
Pat Darcy, Commercial Broker with Tucson Realty & Trust represented the landlord, HSL Properties.
Taking advantage of the 8,147-square-foot restaurant, bar and amazing outdoor garden space will allow Abuela's to create a live music venue during weekends and for special events. Abuela's Cocina Mexicana's concept and business strategy is to provide authentic regional and traditional Mexican comfort food in a warm upscale setting.
The restaurant will be designed to make the best use of the current restaurant space and transform it into Abuela's "Kitchen Counter" concept. This will involve adding a counter space in the front of the house or outside in the garden where Abuela aka "Doña Koki" would be able to prepare made on-sight corn and flour tortillas along with other freshly prepared items. The menu is inspired from grandmothers' kitchens from different regions of Mexico utilizing traditional generational recipes from those various regions. Abuela's Cocina Mexicana will be conscious of sustainability and low carbon footprint by utilizing organic, local produce and ranches as much as possible, for humanely raised beef, pork and poultry, as well as sustainable seafood. Abuela's will take full advantage of the two separate dining rooms with adjacent patio spaces as well as the large outdoor garden area in the front of the restaurant by creating opportunities for both private and semi-private events.
As a partner of Brother John's Restaurant group that includes Brother John's Beer, Bourbon & BBQ at the former Wildcat House, Abuela's and Brother John's will partner in consolidating resources to fully market and sell catering events in both restaurants and off-premise events.
"After a short tenant improvement build out period, Abuela's will be ready for the holidays," said Robertson.
For additional information, contact James P. Robertson Jr., CCIM, at 520.284-9572 or Pat Darcy at 520.577.7000.

For related story see Old Pueblo Grill Sells to Remain a Restaurant