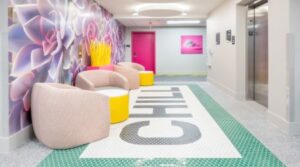 By: Eva Murzaite, Principal Designer | Founder NCIDQ | ASID |
TUCSON, ARIZONA -- Truth is there are many reasons why people choose apartment living: transition, downsizing, simplicity, community, or a trendy place to be.  Some folks prefer a quiet retreat while others love to be seen by the pool with a slew of their friends.   With a recent influx of people who have made Tucson their home, there is a growing demand.   Tenants migrating to Tucson from larger cities are in search of more open space and a smoother way of life.   A new era is coming to the frontier of the wild west.   With it come challenges and opportunities.
The work begins with a new philosophy: work and play where you live.   While the previous trend was to build sprawling communities with walk-up apartments. Now, we are seeing a more conscious use of land with multistory developments hosting retail spaces below for easy access to a coffee shop, a spa or gym or co working spaces.  This also means more opportunities for premium experience with vast mountain or city views from a higher floor apartment or a rooftop deck. We are seeing more contemporary architectural design with clean lines and interesting architectural features.  Their scale combined with dynamic color schemes make these a focal point in our city scape.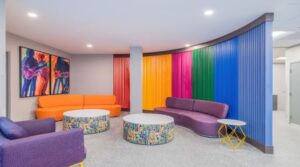 Developers and their design teams alike are challenged to create a space which meets the needs of multiple demographics.  Allocating the right amenities within can make or break a multifamily project.  They are an extension of the residential spaces and provide opportunities to hold a lifestyle by design. The first step – an inspiring lobby that evokes an exhale upon arrival home and an ambience that says "hello! I live here".  Some other essentials are gathering spaces where a sense of community is formed.   Entertainment rooms are designed with a state-of-the-art kitchen to host twenty of your closest friends, meeting rooms equipped for teleconference and luxe lounge spaces to work remotely or have a conversation.   There are also zones allocated for fun, watching the game with a killer sound system or having a beer and shooting some pool.  Everything you might want in a luxury home is there at your fingertips.
Communities are also putting more focus on promoting a healthy lifestyle.   Specialty designers are brought in to create state of the art fitness centers, spa rooms, spaces for outdoor yoga and places to play with your four-legged friends.   Arguably, the most important amenity of all and what attracts so many to Tucson besides the chimichangas is outdoor living.    Luxury resort style pools are designed with various places to lounge in and out of the water, socialize and soak up the rays.   They set the tone with ambient water features that provide white noise and inspire relaxation.  Other popular features are outdoor kitchens spilling into outdoor dining and living rooms.  The spaces are planned to feel open with easy flow blended with smaller pockets for more intimate groups of two to four people.   A gathering centered around a fire pit makes the community space feel warm and inviting and makes Tucson enjoyable year-round.
There are also practical things to consider.  Storage spaces, security, a place to store your bike or bathe your pet.  Shopping on-line is a daily habit and a way of life for many. Rooms to accommodate delivery for large items such as furniture purchased on Wayfair all the way to takeout and grocery deliveries are essential in order to keep the manager's office from becoming warehouse space.
In order to appeal to big city tastes and justify higher rents, developers are faced with a challenge to create a prestigious property that breathes an elevated lifestyle.  This means having to break out of the old building standards.  The old formulas simply don't work.  Residencies are being planned with deep consideration for well-appointed space, special attention to daily flow, organization and comfort.  The fixtures and finishes used have reached a new level of standard with consideration for timelessness, longevity, and ease of maintenance.   Integrated technology is key with Call-in boxes for access control, Bluetooth door access and app control smart home features. What was once considered a luxury is now the norm.
Spending more to build a nicer product is not enough. In order to have a cohesive design a strong branding concept is a must.   The design starts by making an emotional connection to the user.  It also serves as a guide during collaboration between teams of designers and experts from various disciplines.  Trends are changing fast with growing competition.  Much of the inspiration is being sought from neighboring larger markets.   This means new and fresh ideas which are timely and welcome. Woven together with our rich culture, moments of art and nature will give the new housing developments a sense of place and timelessness.   It will also help us connect to the new comers by telling our story.   Growth with authenticity is what will truly reposition Tucson on the map.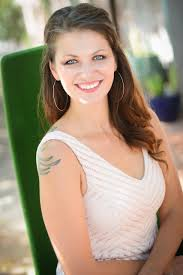 Eva Murzaite, Principal Designer, Interiors In Design | Founder NCIDQ | ASID |
Eva graduated from the Southwest University of Visual Arts in 2005 and started her design career working for a residential design firm in Tucson. She then transitioned to working for Intertech, an architectural firm specializing in commercial interiors. After five years there gaining valuable experience in designing restaurants, hotels, multi-housing facilities, and student living spaces—some locally, while some on an international scale. She decided it was time to merge her experience in both residential and commercial design and established Interiors In Design LCC in 2009. She earned a certificate from the National Council for Interior Design Qualification, and is professional member of ASID. With dedication and passion, she has built a company with an incredibly close team who carries their strong values into every project they work on. Eva says, "Great design for a space starts with getting to know its user, the history and structure of the building, and the culture that surrounds it. At In Design, our team members spend a lot of time getting to know craftsmen, vendors, contractors, and keeping up-to-date on products and inventions that emerge on the market." To learn more, Eva can be reached at 520.332.8733.
PHOTOS: Union on 6th - East and Union on 6th - West